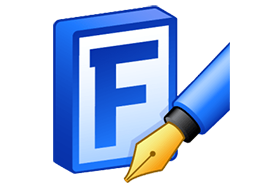 With over 5 million downloads to date, FontCreator is considered the world's most popular and best font editor. Create and edit (variable) OpenType and web fonts. An advanced feature set makes it the tool of choice for professionals, and its intuitive interface is straightforward enough for users at any expertise level.
When you create or open a font, FontCreator displays an overview of all available characters. You can simply add missing characters, or select an existing character, and modify its appearance. You can import (scanned) images of your signature or company logo, or make a font from your own handwriting. With FontCreator you can also fix character code-points, font names, glyph names, and kerning pairs. At any time, you can preview your typefaces before installation. You can even make variable fonts by defining axes and outline layers. OpenType features are preserved on opening a font, and you can use the OpenType Designer to visual edit the features and lookups. The OpenType proofing tool allows you to quickly track down and correct text layout issues. This professional font editor supports both quadratic- and cubic-based contours and has several smart features to ensure smooth connections where you need them. The validation features help you locate and fix possible outline issues.
FontCreator is a true native font editor, so there is no need to buy or install third-party tools or extensions.
Font Overview with Categories
The glyph and character category panel gives you quick and easy access to the glyphs, character subsets and Unicode ranges.
OpenType, TrueType and Web fonts
FontCreator supports Open Type, True Type and Web Open Font Format (WOFF and WOFF2) fonts which can be used on Windows, Mac OS X, Linux, and in all modern web browsers.
Design High Quality Fonts
The standard and professional edition include font validation features which enable you to improve the quality of your fonts by locating and solving common glyph problems.
Optimize Contours
Optimizing glyph outlines will reduce the number of points that make up the contour(s).
Import Vector Images
High quality vector graphics can be easily imported. You can even copy and paste between FontCreator and your favorite vector editing software.
Import Raster (bitmap) Images
Import (scanned) images and convert them into glyphs. Create your own handwriting font by scanning your handwriting and import it into FontCreator.
Thanks to Radixx11 keygen
(Registered Silent Install Repack) x86
(Registered Silent Install Repack) x64