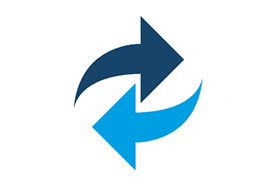 Macrium Reflect is a complete backup and disaster recovery solution. Reflect can backup files and folders into a compressed mountable archive file or your entire PC into a single image. Using this image you can restore the entire disk, partition or individual files and folders. You can create full, differential and incremental images to optimize backup speed and disk space requirements.

Backup & Restore Features
File Backup
– Create a single backup file of one or more folders on your hard disk
– Include and exclude filter ensures that you only backup relevant files.
– Browse the backup file as a virtual FAT32 hard drive in Windows Explorer.
– Files in use by Windows (such as Outlook .pst files) are backed up even when locked!
– Multiple compression levels.
– Backup files can be saved to local or network drives or optical storage (CD, DVD)
– Optionally exclude system and hidden files.
– Supports Incremental and Differential backups.
– Password protect backups to prevent unauthorized access.
– Restore specific files or the entire backup.
– Restore to any location.
Disk Imaging
– Create a single backup file of a complete hard disk
– Create a single backup file of one or many partitions
– Restore a partition to a different type. e.g. a logical partition can be restored as a bootable primary partition
– Resize the restored partition. A hard disk upgrade can easily be performed by increasing the partition to fill the new disk.
– Track 0 (The Master Boot Record) is saved with all backups.
– Backup files can be saved to local or network drives or optical storage (CD, DVD).
– Disk image can be created whilst Windows is in use. A special driver ensures that the disk image represents an exact point in time and will not be affected by disk access that may occur during the backup process.
– Verify images. Images (Backup files) can be separately verified or automatically verified before restore.
– System files such as 'pagefile.sys' and 'hiberfil.sys' are not included in the image. This reduces the final backup file size.
– Three compression levels can be selected to optimize between file size and speed.
– Password protect images to prevent unauthorized access.
– AES 256 bit encryption for ultimate security.
– Set image filenames automatically.
XML
– Save your backup definitions as XML files and execute them with a single click from your desktop.
– Includes VBScript integration and a VBScript generator for unparalleled control of the backup process.
Scheduling Features
– Schedule daily, weekly or monthly.
– Unattended completion.
– Automatic incremental / differential images.
– Automatic disk space management for local / remote hard drives.
– Full logging of all backup operations. HTML log reports are generated and can be viewed using Reflect's built in browser.
Drives Supported
– IDE
– SATA
– SCSI
– USB
– IEEE 1394 (FireWire)
Filesystems supported
– NTFS (All versions)
– FAT16
– FAT32
– Ext2/3FS
CD DVD Formats
– CD-R
– CD-RW
– DVD-R
– DVD-RW
– DVD+R
– DVD+RW
– DVD-R DL
– DVD+R DL
What's new in Macrium Reflect 6:
Rapid Delta Restore (RDR)
Using advanced delta detection technology RDR can rapidly recover data from single, or multiple full backups. Cuts restore times by 90% or more.
Pre-defined backup plan templates
The Macrium Reflect scheduling engine is pre-loaded with templates for traditional, Incremental forever, or you can create your own custom plan.
Incrementals forever
An efficient method to continuously maintain a defined number of the most recent incremental backups. The oldest incremental files are consolidated into a single synthetic delta.
SSD Trim support
This features provides automated SSD optimization providing enhanced SSD performance and longevity.
Rapid Delta Clone (RDC)
Improving further on the cloning capabilities using technology based on RDR to speed up disk cloning activities by 90% or more.
GFS with backup chain protection
The traditional GFS backup template has been pre-configured with monthly, weekly, daily activities, and retention rules. Simplifies management of backup chains.
Custom backup plan support
Allows administrators the flexibility of creating custom backup plans that provide the level of protection they require.