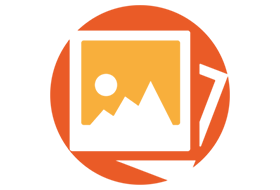 Fast Picture Viewer for Windows 10/11 with compact UI, that can be hidden.
Features image effects, galleries, EXIF, image optimization and more.
The application automatically adjusts itself to your screen.
Clean, free, fast. No bloated UI. No annoying pop-ups.
Why use PicView
Fast
Quick to start up & uses a built-in preloader to instantly switch to next image.
Clean Design
Compact and neatly organized UI, that can be completely hidden.
Archive loading
View pictures inside archives such as ZIP, RAR, 7z, etc (requires 7-Zip or WinRAR to be installed).
Adapts to Screen
The application can automatically fit itself to best fit on your screen.
Configurable UI
Change it and customize it to your liking
Want to just show the image with no UI?
Toggle the UI by pressing Alt + Z. Hold shift down to drag window.
The hover buttons and the colored window border can be turned on/off in the settings window.
Change background
Press B to toggle background for images with transparent background
Features
Editing
Rotate, flip, crop, convert to different image file formats
Lossless image optimization
Color Picker tool
Navigating
Drag & drop and pasting from clipholder supports files, folders, URLs and archives
Sort files by: name, file size, date created, last accessed, latest edit, file extension and randomized
Loop through files in folder
Stay on top of other windows
File management
Open file in external application
Cut, copy, send file to recycle bin or delete permanently
Show file in folder
View file properties
Changes made v1.7.7:
Added a new function to enable users to add an image as a lock screen image
Added a new function to prevent zooming out of an image when it's at full size
Improved zoom and panning for the full-screen view and the full-screen gallery view
Updated the user interface of the effects window and the settings window
The Optimize Image function now displays an error message if the file is unsupported
Fixed an issue with clicking the navigation arrows in fullscreen view, which caused the button to return to normal size not to work
Fixed image resize function to properly reload the image after resizing
Fixed EXIF rating functionality not working
Fixed image cropping functionality not working correctly
Fixed blinking of the image when navigating using the bottom toolbar arrows
Fixed blinking of the image when using the color picker
Fixed an issue where the application would sometimes start in the wrong location and size
Fixed base64 images not loading at the correct size from start-up
Fixed the display of wrong tooltip in the settings menu
Fixed the image file dragging functionality to register only when the cursor is on the image
Fixed the logo menu, when no image is shown, to correctly resize itself when resizing the window
Fixed the logo image to follow the color scheme
Fixed incorrect color when clicking the expand button in the image info window and the about window