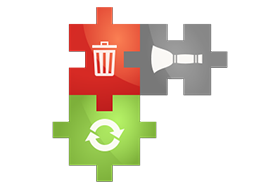 Soft Organizer is a straightforward application designed to help you uninstall programs from your computer, as well as monitor the changes made to the system while installing new utilities.
System Requirements
Operating system: Microsoft Windows 10 / 8 / 7 / Vista (32-bit and 64-bit)
RAM: from 256 Mb
Disk space: 50 Mb
Administrator rights
Features
1. Very simple and intuitive operation
The simple, convenient, and non-overloaded interface doesn't distract a user from the installing and/or uninstalling process. The Soft Organizer utility looks like a simple list of installed programs, where a user merely needs to select a program and click "Uninstall". At the same time, the tool features the entire range of capabilities that even programs with much more complex interfaces have. (Most of those programs look like a space shuttle cockpit with many gauges, meters, and obscure instruments.)
2. Has only the functions you really need
Thanks to judicious selection of capabilities, Soft Organizer features only those options you really need in your work. The overall functionality of the program is similar to competitive application removal solutions.
3. Enhanced capabilities for experienced users
Due to the number of enhanced functions in Soft Organizer, experienced users can enjoy more precise control over the process. Such functions keep a low profile and do not distract other users, so installing and uninstalling applications using Soft Organizer remains simple and intuitive.
Capabilities
Search for traces (residues) of the program being uninstalled
Allows you to remove traces of programs that were not tracked while installing (powered by the Full Uninstall technology).
Universal Windows Apps Removal
Allows you to remove universal Windows 8/10 apps that was installed from Windows Store.
Built-in program rating
Program rating allows you to evaluate installed applications. The rating is calculated based on the total number of users who have removed this app from the computer shortly after installation.
Automatic backups
Automatic creation of backups during the removal of application residues indemnifies the system against any possible emergency.
Remove multiple programs at once
You can easily remove even multiple applications in Soft Organizer by simply selecting all programs you don't need anymore and clicking "Uninstall".
Export the list of installed programs to HTML
When you contact the support staff of a company, they may ask you about the programs installed on your computer. You can easily get such a list in a few clicks. The list is saved as an HTML file that is easy to open and to read.
Sorting and grouping of the list
The list of programs can be sorted by various parameters (install date, tracking status, title, and others) for instant search for given apps in the list
Program quick search function
With quick search, you can find a desired application almost immediately, as long as you know its title or a portion of it. The list dynamically shortens as you type the text in the search box.
Built-in automatic update mechanism
Soft Organizer automatically updates to new versions. You don't need to visit the website of the program or download or install the tool manually. You simply click the Update button, and the program does the rest.
Check for new versions
For installed programs there's an option to check for newer versions of a program. This allows you to keep applications up-to-date, as well as to eliminate bugs and problems caused by the outdated versions.
PRO Search for leftovers of the already uninstalled programs
Allows you to remove leftovers of already uninstalled programs.
PRO Tracked installation of programs
Installs apps and tracks changes in the system to enable removing tracked elements later (powered by the Full Uninstall technology).
PRO "Silent" program installation
For those setup packages that support silent install, you can install applications in the "no questions asked" mode in one click.
PRO New versions installation
If newer versions of the installed programs are detected, Soft Organizer Pro will offer to update them in one click (available no for all programs).
v. 9.27 01/26/2023
Popularity is now displayed for applications instead of the uninstall rating.
Improvements to the applications traces lookup algorithm.
A more correct display of checkmarks under the dark theme.
Bug fixed: Application installed with tracing did not appear in the installed apps list if they cannot not be uninstalled with the standard uninstaller.
Thanks to Crazy Doctor / Ru-board

(Cracked Silent Install Repack) x86 x64