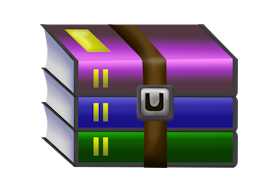 WinRAR is a powerful archive manager. It can backup your data and reduce the size of email attachments, decompress RAR, ZIP and other files downloaded from Internet and create new archives in RAR and ZIP file format
Features of WinRAR:
• Using WinRAR puts you ahead of the crowd when it comes to compression by consistently making smaller archives than the competition, saving disk space and transmission costs.
• WinRAR provides complete support for RAR and ZIP archives and is able to unpack CAB, ARJ, LZH, TAR, GZ, ACE, UUE, BZ2, JAR, ISO, 7Z, Z archives.
• WinRAR offers a graphic interactive interface utilizing mouse and menus as well as the command line interface.
• WinRAR is easier to use than many other archivers with the inclusion of a special "Wizard" mode which allows instant access to the basic archiving functions through a simple question and answer procedure. This avoids confusion in the early stages of use.
• WinRAR offers you the benefit of industry strength archive encryption using AES (Advanced Encryption Standard) with a key of 128 bits.
• WinRAR supports files and archives up to 8,589 billion gigabytes in size. The number of archived files is, for all practical purposes, unlimited.
• WinRAR offers the ability to create selfextracting and multivolume archives.
Recovery record and recovery volumes allow to reconstruct even physically damaged archives.
• WinRAR features are constantly being developed to keep WinRAR ahead of the pack.
Version 6.21 beta 1
1. Switches -ed and -e+d are also supported by ZIP archives.
Previously they worked only for RAR archives.
2. Bugs fixed:
a) if unencrypted file was stored after encrypted in the same
RAR archive and both files had been unpacked in the same extraction
command, WinRAR 6.20 failed to unpack the unencrypted file;
b) in some cases a wrong detailed reason of file open error could be
displayed in the second line of open error message.

Special build with latest windows 11 theme
WinXP is not supported anymore.
10 December 2021 – Change Winrar theme…
16 February 2022 – Tweak enable legacy menu and modern (Win11)
24 March 2022 – Update Chinese version
(Registered Silent Install Repack 6.20) English
x86
x64
中文官方无广告版 6.11
x86
x64
官方下载链接
6.11
x86
https://www.win-rar.com/fileadmin/winrar-versions/sc/sc20220317/wrr/winrar-x32-611sc.exe
x64
https://www.win-rar.com/fileadmin/winrar-versions/sc/sc20220317/wrr/winrar-x64-611sc.exe
6.10
x86
https://www.win-rar.com/fileadmin/winrar-versions/sc/sc20220127/wrr/winrar-x32-610sc.exe
x64
https://www.win-rar.com/fileadmin/winrar-versions/sc/sc20220127/wrr/winrar-x64-610sc.exe