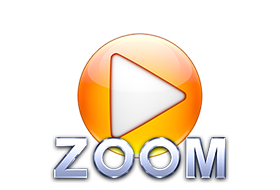 Zoom Player is the most Powerful, Flexible and Customizable Media Player application for the Windows PC platform.
Based on our highly-touted Smart Play technology, more media formats play with less hassle, improved stability and greater performance Behind Zoom Player's classic media player look, hides a powerful Media Center application designed with a simple 5-Key (up/down/left/right/select) fullscreen navigation interface. The 5-Key system provides simple navigation with advanced interfaces. Interface such as the Media Library, File Browser, Playlist, Color Control, Audio Equalizer, Bookmarks, Play History and many more. Zoom Player's media center simplicity makes it ideal for users with no previous computer experience.
With Zoom Player, you can instantly Convert any PC into a Home Entertainment Center (HTPC) with no specialized hardware requirement or operating system. Zoom Player runs with every version of Windows.
Utilizing Zoom Player's modular design and flexibility, you can easily design a safe viewing environment, limiting or extending functionality, making it ideal for both newbies and professionals.
Zoom Player is fully scalable, supporting the latest media formats and interfaces. New features are incorporated constantly with release schedules and feature integration clearly announced on our support Forum, Twitter and Facebook pages.
Install Center:
Zoom Player's Install Center quickly scans your system for missing or outdated media components and automatically present you with an installation list of recommended updates, keeping your system up to date with the latest technology.
Supported Video Formats:
DVD, BluRay (Decrypted Main Movie playback), Matroska (MKV), MPEG2 Transport (TS/TP/TSP/TRP/M2T/M2TS/MTS/PVA/TOD), H.264 & AVCHD (MPEG4 AVC), H.265 & HEVC, WebM, XVID, DIVX, AVI, Flash Video (FLV), Windows Media (WMV/ASF), QuickTime (MOV/HDMOV), Ogg Movie (OGM), Theora (OGV), Real Media (RM/RMVB), VideoCD (VCD), Super VideoCD (SVCD), MPEG (MPG), MPEG2 Program (M2V/VOB/MOD), MPEG4 (SP/ASP), MPEG4 ISO (MP4), General Exchange Format (GXF), Material Exchange Format (MXF), Media Center DVR (DVR-MS), CamCorder (MOD/TOD), Digital Video (DV), DVCPRO, VP3, VP6, VP7, Motion JPEG (MJPEG), Motion JPEG 2000 (MJPEG2000), Flash (SWF), Cellphone 3GPP (3GP/3G2), FLIC (FLI/FLC) and more . . .
Supported Audio Formats:
MP3, Free Lossless Audio CODEC (FLAC), Advanced Audio Coding (AAC), Windows Media (WMA), OGG Vorbis (OGG), OPUS (OPUS), CD-Audio (CDA), Dolby Digital (AC3), Digital Theatre Surround (DTS), Matroska (MKA), Wave Audio (WAV), SHOUTcast (Streaming), Cell Phone (AMR), Monkey Audio (APE), Real Media (RA), MusePack (MPC), OptimFROG (OFR), Shorten (SHN), True Audio (TTA), WavPack (WV), Apple Lossless Audio Coding (ALAC), LPCM, MIDI, AIFF, MO3, IT, XM, S3M, MTM, UMX and more . . .
Supported Interactive Formats:
DVD, Hypertext Markup Language (HTML), Flash (SWF).
Supported Image Formats:
JPEG (JPG), PNG, GIF, BMP, ICO, WMF, EMF, JFIF, RLE, WIN, VST, VDA, TGA, ICB, TIFF, FAX, EPS, PCX, PCC, SCR, RPF, RLA, SGI, BW, PSD, PDD, PPM, PGM, PBM, CEL, PIC, PCD, CUT, PSP, PN and more.
In This Release:
New:
Introducing Charcoal, Zoom Player's new default skin. Charcoal includes the same layout and functionality as the previous Onyx default skin but uses more subtle shading and cleaner elements to better fit with Windows 10's look and feel.
The onyx skin is still shipping with Zoom Player, you can switch back by opening the skin selection dialog using the "N" keyboard macro or through the right-click menu.
It is now possible to play videos from Twitch.tv.
New "Mark as Seen" media library feature accessible through the functions menu (toggle the cogwheel, or right-arrow in list mode). When marking media or entire folders as seen, you will be prompted to "Mark as seen now" or "Mark as seen archive". Depending on your choice the marked entries will appear at the start or end of the play history list.
New "Select all Unseen" media library feature that selects every media or folder containing content that exists in the play history.
New "Select all Seen" media library feature that selects every media or folder containing content that does not exist in the play history.
New Setting (Adv. Options / Interface / Fullscreen Navigation / Settings) that controls whether the Media Library's media scraping indicator is visible within the path area.
Change:
A major redesign of the media library's scraping operation. Scraping of new content should no longer block thumbnail and meta-data updates for previously scraped content. This change should help Zoom Player feel more responsive.
Rewrote the audio TAG/ID3 scraping code for enhanced efficiency and reliability.
The file meta-data edit window's title now features only the file name and not the full path.
The media library's YouTube Playlist plugin is now more flexible when parsing YouTube playlist URL structures. YouTube uses multiple URL structures to present playlists and now the plugin should support all of them.
The "Force the navigation list or thumb view display to full width" and "Force the navigation list or thumb view to maximum width" settings now apply to the path area and not only to the media area.
Fixes:
Fixed a hidden crash that destabilized Zoom Player when closing the media library while the thumb view was in the process of smooth scrolling.
You can no longer open the windowed go to time/chapter editor if no media is currently playing.
YouTube has a bug in it's API that can cause duplicate entries to show when loading more entries. Previously in such cases, Zoom Player didn't show a thumbnail for a duplicate entry, at least this bug is fixed, can't do much about YouTube's API bugs.
The media library's scraping counter did not update if you exit the folder the current scraping operations were working on until the screen was updated.
Stopped the Create Ringtone function from attempting to work with network streams (it never worked with URLs, but still allowed you to select the position and fill in details into the save dialog).
Fixed a rare case where there media library would not respond to input correctly when playing a movie then exiting to the main navigation interface and then back to the media library.
Fixed a few small memory leaks.
(Registered Silent Install Repack) x86