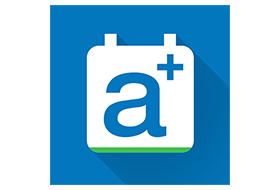 aCalendar+ gives you many additional calendar features and your purchase supports further development and helps protecting the endangered Mountain Tapir.
aCalendar+ is the premium version of aCalendar – please try the free calendar app aCalendar first!
EXTRA FEATURES (aCalendar+ or as In-App-Purchase)
● Public holidays (and school holidays for some countries) – configurable in the calendar list
● Color themes (UI and Widget colors, dark background – NOT event colors: those are defined by your calendar service)
● Business features (Invite attendees, link contacts, free/busy, private, profiles, share as ICS, …)
● Tasks (manage Google Tasks or tasks from CalDAV/OpenTasks)
● No ads (removes the occasional advertisement)
♥ Tapir Apps donates 10% of all revenue (app purchase, IAP, ads) to rainforest conservation through our friends at World Land Trust
FEATURES
● intuitive navigation with smooth transitions
● day, week, month and year view
● Fullscreen widgets
● flexible recurrences like every 3 weeks, every 17 days, or every Mon, Wed and Fri
● 48 colors per calendar
● per-event colors (if supported by the event's calendar)
● custom event font size
● birthdays & anniversaries with photos from your addressbook and editing
● uses Android's native calendar backend and synchronization
● no battery drain through polling
● moon phases and zodiac signs for birthdays
● QR barcode sharing of events
● 12/24h clock honoring system settings
● optimized text display and improved line-break
USAGE
● move forward and backward in the calendar by swiping vertically or volume rocker
● switch between calendar views with a horizontal swipe (opens the day or week you start the swipe gesture on) or double-tap for day view
● tap to open a calendar event
● long-press to add new calendar event
● long-press on mini-month to go to today or jump to date
● tap on photo to open quick contact menu
● 3-finger-tap: configurable action
● Drag'n'Drop: tap plus long press in day view (use volume rocker to change day)
PERMISSIONS
aCalendar only requests permissions needed for app functionality. aCalendar+ respects your privacy and will NEVER send any of your private data anywhere unless configured by YOU. Please contact us if you have questions about permissions.
TRANSLATIONS
aCalendar+ is translated into more than 30 languages, mostly by volunteers – please let me know if there is a bad translation somewhere or you want to add your language.
LOVE
♥ If you like aCalendar+, please show your support by leaving a good rating and recommending it to your friends ♥
APP2SD
Unfortunately app2SD cannot be supported, because homescreen widgets do not work from SD in Android. But aCalendar+ is optimized for speed and small memory footprint.
ROADMAP (Planned features)
● further Tasks improvements (e.g. contact linking)
● Popup notifications
● alternative calendar system support (Chinese, Hebrew, Indian, Persian, Islamic/Hijri, etc.) – already available in the date widget!
What's New:
NEW:
Weather Forecast
mark one week day in blue (additional to one in red), configurable in Calendar system settings
For school holidays subscribed from multiple regions, show the region
improved cloud calendar type detection (if your cloud service/sync adapter is not correctly detected, i.e. showing a generic '31'-icon, please contact us with a link to the cloud sync app)
improved support for Android 13+
FIXES:
fix swipe gesture on task due time
fix notifications at event end when modifying the event duration
fix display of Arabic numbers
Package Info:
Languages: Full Multi Languages;
CPUs: universal architecture;
Screen DPIs: 120dpi, 160dpi, 240dpi, 320dpi, 480dpi, 640dpi;
Untouched apk with Original Hash Signature, no [Mod] or changes was applied;
Certificate MD5 digest: 6879e7ab9306992fa0aceac05f614c09
(Paid)