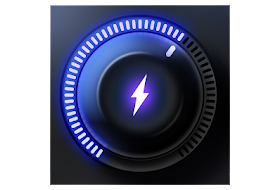 Bass Booster Pro will amplify your bass at a maximum and provide you with a better quality sound wherever you are! Just turn on your music player and open Bass Booster Pro
the Pro version, you can customize your music listening experience even more thanks to two sound effects:
• a virtualizer to give you an audio live concert feeling in just one clic.
• and an equalizer to adjust bass and trebles frequencies of all your favorite songs.
Click on the icon, control and enjoy! In order to have an optimized music listening experience, use headphones or external speakers.
Tester reviews:
– "I was skeptical at first, but when I hit on the speakers, I really heard the difference. This bass amplifier rocks!"
– "Wow, love it! I can emphasize either bass or treble sounds with the equalizer or just use the bass boost slider to amplify bass volume easily."
Features:
✓ a Bass Booster: click on the speakers icon to boost your bass volume at a maximum and enhance the quality of your sound
✓ the Dooper Virtualizer: Dooper will transform your sound giving it more depth and echo and make you feel like you're at a concert.
✓ the Wave Equalizer: Play with your music frequencies thanks to this equalizer. Adjust both bass and trebles as you like and enjoy a customized music listening experience.
✓ A very simple and intuitive interface for powerful sensations.
✓ Media volume control
✓ Widget available for the three effects (bass boost, virtualizer and equalizer)
✓ Can run in background
Bass Booster – Music Equalizer – Sound Volume Boost
More Bass, More Sensations
What's New
No Changelogs
MOD INFO
●Standalone Android Package
● Pro Features unlocked
● Languages: ENG
● Supported CPU architecture: Universal
● Supported DPIs:xxhdpi
●Optimized Graphics/Zipaligned
●Useless Annotation Code Blocks Removed
●Debug Info Removed
(Modded)