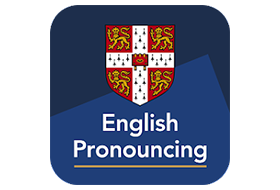 Cambridge English Pronouncing Dictionary (CEPD) contains over 230,000 pronunciations of words, names and phrases, including personal names, company names, and words related to science and technology. It is the definitive guide to contemporary pronunciation for British and American English.
Learning Features:
– British and American English audio pronunciations, recorded by native speakers
– Flash Card Quiz to help you memorize new words and test your pronunciation
– Favourites – to help you quickly access frequently searched words
– Search History to revise your recent searches
Search Features:
– CEPD will understand and find a word from any grammatical form
– Android Share. Select any text on websites, emails and share with CEPD to get words'pronunciations
– Copy any text from other apps and choose 'Look up clipboard' in CEPD to see words' pronunciations one by one
– Similar Words Search in case of misspelling
– Wildcard Search. Use "?" and "*" symbols to replace letters if you're unsure of the correct spelling
– Anagram Search (e.g. tab-bat)
What's new:
– Updated to improve compatibility with the latest Google Play policy.
Mod Info:
● Full Version Unlock.
● No Need To Download Dictionary Package.
● Dictionary Package Inside The App.
● In-App Billing Service Removed / Disabled.
● Play Services, Transport, Firebase Properties Removed.
● All Unnecessary Garbage Folder & File Removed.
● Removed Debug Information (Source, Line, Param, Prologue, Local).
● Total Apk Size 260 Mb.
(Modded)