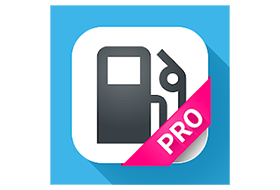 Fuel Manager Pro will help control the cost of fuel and know when they have exceeded the budget.
THE FIRST APPLICATION IN THE GOOGLE PLAY WITH FULL SUPPORT FOR DUAL-FUEL CONSUMPTION CALCULATION OF FUEL (GAS + PETROL)
Features
• Calculation of of fuel consumption – for one or two tanks (combined and separate statistics)
• Detailed statistics and comparative graphs
• Forecast of remaining fuel
• Road Calculator rundown, path cost, and the necessary fuel
• Export and import data (TSV)
• 16 themes
• Flexible settings (unit and interface)
• Widgets for quick addition of records
• Sync with the cloud, and between devices (using Dropbox API – Pro)
• Several vehicles (Pro)
• No ads. Absolutely.
What better than other
• calculation consumption of bi-fuel systems
• Universal calculation of fuel consumption (full tank, milestones, calculation ща residues)
• Prediction of remaining fuel
ATTENTION!
• To calculate the statistics needed at least two "final" record. These entries are – filling to complete, checkpoint, tank rest. The more entries, the more periods of calculation and the statistics more accurate.
• The most accurate results you get with regular refuels to complete. Use the "checkpoint" when you understand what it is and why.
What's New:
+ Manual selection of the folder for import/export
~ All libraries updated
x A lot of minor bug fixes
~ Localizations updated
+ Performance improved
Package Info:
Languages: Full Multi Languages;
CPUs: universal architecture;
Screen DPIs: 160dpi, 240dpi, 320dpi, 480dpi, 640dpi;
Untouched [Paid] apk with Original Hash Signature, no [Mod] or changes was applied;
Certificate MD5 digest: b1d2248ba8b8787414765310a3fdd042
(Paid)