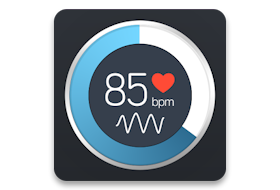 Simple and beautiful heart rate monitor to aid in pulse measurement and fitness goals.
– Leverages your iOS devices camera to detect fingertip coloration changes as blood flows in and out
– See your heartbeat on screen just like you would on a true cardiograph machine
– Tracks and tags each measurement for easy analyzation
– View which cardio zone you're in: Resting, Warm Up, Fat Burn, Cardio, Extreme Cardio, or Max Heart Rate
NOTE: Works best with devices that have a flash. Non-flash devices can be used in good lighting. Remember to only gently place fingertip on camera as pressing hard restricts blood flow.
(PRO version)