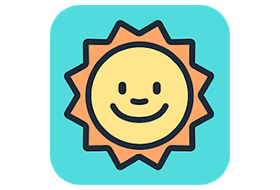 Say hello to Hello Weather: the amazingly accurate, perfectly powerful, no-nonsense weather app.
"Easily the best weather app on the market." — Ben Brooks, The Brooks Review
Hi, we're Dan, Jonas, and Trevor, the crew behind Hello Weather. There are a million weather apps out there, and they're overloaded with ugly ads, confusing interfaces, and stupid gimmicks. We think that stinks, so we made the antidote: a straightforward app that's a joy to use!
Here's why you'll love planning your day with Hello Weather.
All the info you need is right in your face.
Our gorgeous, information-rich design shows you everything that matters in one simple screen. You'll see the current conditions and future forecast in an instant, with complete details just one tap away.
You won't waste time looking at useless stuff.
Hello Weather intelligently adapts to changing conditions. When it's windy, foggy, or stormy, you'll see all the relevant details right upfront. When conditions improve, it's all tucked neatly out of the way again.
You'll get predictions you can trust.
Hello Weather is more than a pretty face. It's powered by the world's best data sources: Dark Sky, AccuWeather, and The Weather Channel. Pick the provider that's best in your area, or switch back and forth to compare. (Upgrade required.)
You don't need to be a weather expert.
What does barometric pressure mean? Is the dewpoint good or bad? We translated those esoteric numbers into human words, so you'll know how it really feels outside.
It'll make you smile.
We filled the app with tons of thoughtful little touches to brighten your day. You'll love the beautiful color themes, automatic night mode, and sweet secret extras.
And that's not all…
Radar's built right in.
When a storm's a-brewin', we've got your back. Our radar tab shows you exactly what's headed your way. (US/Canada/Australia only, upgrade required.)
Notifications and a widget too!
Who wants to open an app to check the weather? Turn on notifications and get forecast info automatically delivered right to you. Or add the Hello Weather widget to your home screen for a quick glance at the current conditions.
Made with by a tiny indie company.
We pour a lot of love into our app, and we take great care of our customers. We're always just an email or tweet away, and we love hearing from you!
Hello Weather's FREE forever and it's only $4.99/year for the Pro stuff.
Free features:
• Simple and easy to read forecasts
• Automatic color themes (cold, warm, hot) and night mode
• Unlimited saved locations
• Powered by Dark Sky
• Weather Units customization
Join our Fan Club for $4.99/year and get:
• Radar (US, Canada, Australia only)
• Forecast data sources: switch to Accuweather, The Weather Channel, or AerisWeather.
• Widget — see your current conditions and a five day forecast at a glance.
• Notifications — see a persistent notification or get a morning weather report every day.
• Real-time precipitation estimates (US, UK, and Ireland only)
• Night mode controls
• Other special secret stuff!
Hello Weather in the press:
"An easy, straightforward weather app that shows you just what you need to know."
— AppAdvice
"Hello Weather strips it down to the essence." — Macworld
"Very smart, with a clean layout and readable graphs. It eschews complexity without limiting information." — TechRadar
"Well designed and clearly made with love, with lots of delightful little details throughout. — Tools and Toys"
What's New:
A number of bug fixes and tweaks to improve stability and polish things up a bit!
Mod Info:
Pro / Paid features unlocked;
Disabled / Removed unwanted Permissions + Receivers + Providers + Services;
Optimized and zipaligned graphics and cleaned resources for fast load;
Ads Permissions / Services / Providers removed from Android.manifest;
Ads links removed and invokes methods nullified;
Ads layouts visibility disabled;
Google Maps Location works;
Google Play Store install package check disabled;
Debug code removed;
Remove default .source tags name of the corresponding java files;
Analytics / Crashlytics / Firebase disabled;
Languages: Full Multi Languages;
CPUs: armeabi-v7a, arm64-v8a, x86, x86_64;
Screen DPIs: 160dpi, 240dpi, 320dpi, 480dpi, 640dpi;
Original package signature changed;
Release by Balatan.
(Modded)