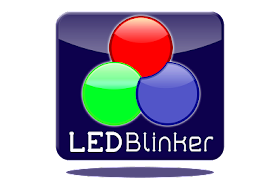 Let LED Blinker Notifications Pro show your missed calls, SMS, Facebook and WhatsApp messages. If you have no hardware led, the screen is used.
Functions:
✔ Works with latest Android Kitkat/Lollipop/Marshmallow/Nougat/Oreo/Pie/Android 10
✔ Contact specfic colors for WhatsApp, missed call, Telegram, Signal
✔ Last notifications overview
✔ Last messages overview including messages deleted by your contacts (in-app purchase)
✔ individual settings for each app, e. g. blink rate, vibration, sounds and repeats
✔ light and dark color scheme
✔ export/import settings (no lost settings when you install new ROMS/mods)
✔ Silent mode for every day (enable it for the night to stop blinking)
✔ widget to deactivate LED Blinker/remove notifications quickly
✔ Screen LED for phones without real LED (Always on display – AOD)
✔ Enable the camera flashlight for new notifications (laboratory function)
✔ New smart notifications (filter for specific message text)
✔ Use app symbols or custom pictures for on screen LED
Examples for apps with notifications:
✔ Missed calls and sms
✔ Battery status
✔ Google Mail/Talk/Hangouts
✔ Calendar reminder notifications
✔ Standard EMail App
✔ Skype messages
✔ Bluetooth messages (LED goes on when bluetooth is active)
✔ Alternative On-Screen-LED (AOD)
✔ Twitter, Threema (now with group support)
AndroidHeadLines: 'LED Blinker is an Android app that aims to make it much easier to help you figure out which notification is which'.
Unlike other apps in this category you don't need 'ROOT' access to use LED Blinker and this app is very battery friendly!
All rights are needed to run the app, lesser are not possible.
Please try out the lite version at first to see if your hardware LED works (on screen LED is always working!).
LEDBlinker Notifications Pro has no internet permission, your data is safe!!!
Please check device specific hints at the end!
Fast support is very important for me! (Look at the ratings, thanks to all people!)
If you have problems please do a full re-install and/or reboot your phone.
Otherwise contact me at Facebook or Email to get help.
Warning: If your phone speaks after install (Samsung S4, SIII, S3 Mini, S2, Note1, Note2, Note3, LG Nexus 4) you have to disable Samsung TTS (text-to-speech) under settings -> apps manager -> all (on the right) and Google TTS (text-to-speech).
Only needed when you use the accessiblity service!
Another solution to fix talkback issue:
You can change the launcher by using another one from the Google Play Store. For example, Solo Launcher – Swift & Smart, Nova Launcher, Go Launcher and Holo Launcher. These will not exhibit this bug.
For Samsung S4 users: If your phone speaks when opening your browser you have to use another browser like Chrome or Firefox.
Hint HTC users: Your phone is NOT supported, you have to use the on screen led!
Sony Phones: Please disable stamina mode in your device settings.
Let your led indicator glow with different colors!
What's New:
Design polished
Support for ongoing notifications added, configurable for each app
Width and height of symbol for side bar can be configured
For each notification you can choose a user defined position for the 'LED'
When the side bar is not visible, just reset the position under manage side bar
Many improvements and bug fixes
Mod Info:
Premium Lifetime Subscription / Paid features unlocked;
Disabled / Removed unwanted Permissions + Receivers + Providers + Services;
Optimized and zipaligned graphics and cleaned resources for fast load;
Ads Permissions / Services / Providers removed from Android.manifest;
Ads links removed and invokes methods nullified;
Ads layouts visibility disabled;
Google Play Store install package check disabled;
Debug code removed;
Remove default .source tags name of the corresponding java files;
Analytics / Crashlytics / Firebase disabled;
Rate dialog disabled;
AOSP compatible mode;
Languages: Full Multi Languages;
CPUs: universal architecture;
Screen DPIs: 120dpi, 160dpi, 240dpi, 320dpi, 480dpi, 640dpi;
Original package signature changed;
Release by Balatan.
(Modded)