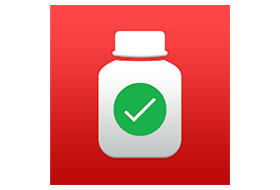 MedicaApp reminds you to take the right medication at the right time, and to refill your stock of pills before they run out. Enjoy the smart medication reminder with flexible schedule options, pill tracker, refill reminder, and more.
With MedicaApp, add medications, capture medicine photos, and set schedule of when to take them. When it's med time, MedicaApp will remind you. Take or skip doses, record notes, and track your adherence… It's useful for chronic patients as well as normal forgetful people with occasional common cold. It's won 5 prestigious awards… all those cannot be wrong!
✅ MED TRACKER
• Unlimited number of medications
• Supports 17 types of medications with stunning graphics: Tablet, Capsule, Syrup, Injection, Powder, Drops, etc.
• Take photo of the medication using your phone camera
• Set a default dose that you still can change/adjust when you take the medication (useful for medical plans with changing doses)
• Track your medications: open the pill tracker screen, and view medication log and track your taken, skipped, and missed pills for the past days, weeks, and months.
• Print the tracking report: or save it as PDF and show it to your doctor.
• Adherence score: view your day progress as you take, skip, or miss doses.
• Monitor your medication adherence and earn badges.
• Delete a medication, or deactivate it to keep it for reference.
• Protect your privacy by setting a passcode.
✅ MEDICATION SCHEDULE
As needed (PRN) take PRN medications whenever you need them, and record taking them.
Every day, or number of days schedule to take your medication at custom times (to 12 times) every defined frequency of days, weeks, or months.
Every interval (Flexible) schedule to take your medication an interval after your last time of taking the dose. You set the interval (number of hours) and starting date & time.
Every specific weekday e.g. Every day except for Sunday or Every Monday & Wednesday.
On-off cycle schedule to take your medication on a cycle of on days then off days, etc. You also have the option to show placebo doses in the off days. Useful for tracking contraceptive (birth control) pills.
✅ MEDICATION REMINDER
• Reliable med alert along the day no matter how much you reboot your device
• Notification of missed alerts (blinking LED, vibrations, tray icon)
• Alert screen shows up even when your device is locked
• Smart reminder: when you mark your next meds as taken or skipped, the med alert will be silent – and you'll have a quiet sleep!
• Convenient alert styles: Alert Then Stop, Alert Forever, Go And Come, Notification Only
• Customize your medication reminder: tone, volume, and vibration
• Set custom reminder tone: pick your favorite ringtone
• Mark your med doses as taken, skipped, or leave them as missed
• Set the actual time of taking the dose
• Add notes to your doses to keep a record of what's going on
• Snooze the alert when you are not ready to take the meds
✅ REFILL REMINDER
• Adjustable refill reminder: reminds you to refill your stock of meds just when it goes under the threshold your adjust
• Request refills from your pharmacy: send the amounts you need to be refilled from within the app!
MedicaApp is an easy, beautiful, and reliable medication reminder… just what you really need. Forget about your old pill box, and download this convenient and reliable pill reminder & refill tracker app.
What's New:
👍🏻 Now you can set different doses with different schedule times.
👍🏻 Dose units were updated with added support for singular & plural dose units.
👉🏻 Now you can just swipe notification reminders to dismiss them!
👉🏻 Other improvements.
Mod Info:
Premium / Paid features unlocked;
Disabled / Removed unwanted Permissions + Receivers + Providers + Services;
Optimized and zipaligned graphics and cleaned resources for fast load;
Ads Permissions / Services / Providers removed from Android.manifest;
Ads links removed and invokes methods nullified;
Ads layouts visibility disabled;
Google Play Store install package check disabled;
Debug code removed;
Remove default .source tags name of the corresponding java files;
Analytics / Crashlytics / Firebase disabled;
Languages: Full Multi Languages;
CPUs: universal architecture;
Screen DPIs: 120dpi, 160dpi, 240dpi, 320dpi, 480dpi, 640dpi;
Original package signature changed;
Release by Balatan.
(Modded)