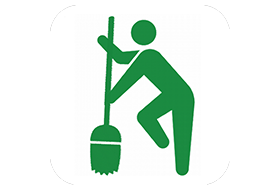 Powerful cleanup of memory. Just one tap start. Special knowledge and settings are NOT needed!
Your phone will more smoothly run with RAM Cleanup!
Clean up (free up) the memory (RAM) to speed up (boost) your device with saving more battery and cooling down CPU. Just starting the app makes it easy to totally optimize your device.
You don't need any special knowledge for optimization of the smartphone system and performance.
You can remove the animation if you want.
Total memory reduction helps much faster operation with saving battery for gaming, browsing and OS itself.
Advanced functions:
-Auto closing.
-Auto clean function by recognition of exceeding threshold of memory usage ratio.
-Color settings for texts, background, foreground, and animation.
-Shortcut for customized cleanup.
Try this simple and light memory cleaner!
What's New:
-Security update.
*Premium features unlocked!
*Security check Removed
*Unwanted Files/Folders Removed
*Debug info removed
(Modded)