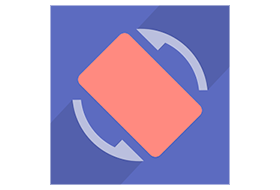 Use your device in any orientation with most intuitive and customisable manager!
Rotation is a tool to control device orientation. It offers all the modes that Android supports and you can also override each app settings to rotate according to your need. It doesn't matters that app has that mode, it completely overrides the app and system settings. Let's give it a try and it also has lots of other useful features.
FEATURES
A complete orientation manager with all the supported modes.
System default modes
• Auto-Rotate On • Auto-Rotate Off
Modes to override system settings
• Forced Auto-Rotate • Forced Portrait • Forced Landscape
• Reverse Portrait • Reverse Landscape
• Sensor Portrait • Sensor Landscape • Forced Full Sensor
Lock Current – Lock current orientation
Conditions with different events and apps support.
• Call orientation • Lock orientation • Headset orientation
• Charging orientation • Dock orientation • App orientation
Events priority – Customisable events preference in case of two or more events occur simultaneously.
Rotate on demand
# Change the orientation of foreground app or events with ease from a fully customisable floating head (or notification or tile) available on the top of every task.
Various settings to customise according to the need.
• Start on boot • Notification • Notification toggles
• Notification priority • Toast messages • Vibration and more.
Best ever theme engine with a color for every choice.
• All new dynamic theme engine with background aware fuctionality to avoid any visibility issue.
In-built support
• Quick setup to configure major features from a single screen.
• Detailed help with easy to understand explanations.
# Perform backup and restore operations to save and load the app settings.
Others
# Rotation extension to automate over 40 actions via Locale / Tasker plugin.
• Rotation shortcuts to quickly switch the orientation from the home screen.
• App shortcuts (Android 7.1.1+) to perform various service operations without opening the app.
• Notification tile (Android 7.1.1+) to perfrom service and on demand operations.
• Fully customisable Service and Toggles widgets to perform various operations.
• Explore to find many more hidden gems of Rotation.
Features marked with # are paid and Rotation Key is required to use them.
PERMISSIONS
Retrieve running apps – To detect foreground app.
Usage statistics (Android 5.0+) – To detect foreground app.
Modify system settings – To change display orientation settings.
Draw over other apps – To change foreground orientation.
Read device state and identity – To change the phone call orientation.
Run at startup – To start service when device boots up.
Control vibration – To vibrate device when orientation changes.
Modify USB storage – To create and restore backup (nothing else).
Internet access – To display ads.
ACCESSIBILITY
It uses an accessibility service to provide a better experience and to force the lock screen orientation on Android 8.0+ devices. It will not access window content or any other sensitive data.
Rotation > Conditions > Events > Accessibility.
——————————
– Buy Rotation Key for more features and to support the development.
– In case of bugs/issues, please contact me via email before making any review.
– Some apps might not work properly when forced to work in certain orientations. Use Auto-rotate on/off from conditions to use system settings for those apps.
– Reverse portrait is disabled on some Xiaomi (MIUI) devices with default launcher. Please try any other launcher (home screen) to make it work.
What's New:
Please enable accessibility service for a better experience. Some apps might not work properly when forced to work in certain orientations and Rotation can't fix them due to system limitations. Please don't rate negatively instead use Auto-rotate on/off from conditions to use system settings for those apps.
Improved support for Android 13.
Overhauled orientation functionality.
Added current orientation to the extension.
An all-new start to make things even better.
Mod Info:
Pro / Paid features unlocked – no additional key required;
Optimized and zipaligned graphics and cleaned resources for fast load;
Disabled / Removed unwanted Permissions + Receivers + Providers + Services;
Debug code removed;
Languages: Full Multi Languages;
CPUs: universal architecture;
Screen DPIs: 160dpi, 240dpi, 320dpi, 480dpi, 640dpi;
Original package signature changed;
Release by Balatan.
(Modded)