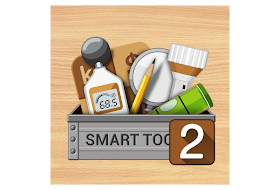 Smart Tools 2 is the advanced Toolbox app. This second package (V2) is released in 10 years. V2 includes all the features of the existing "Smart Tools", so we recommend that new users purchase this app.
The differences between "Smart Tools" and "Smart Tools 2"
(1) V2 has internet permission.
(2) Map and Exchange rates (currency) are supported.
(3) "Sound Meter Pro" is replaced by "Smart Meter Pro". Luxmeter is added.
(4) More tools will be added only in V2.
It includes 6 Pro sets for a total of 16 tools.
Set 1. Smart Ruler Pro : ruler, protractor, level, thread
Set 2. Smart Measure Pro : distance, height, width, area
Set 3. Smart Compass Pro : compass, metal detector, GPS
Set 4. Smart Meter Pro : sound meter, vibrometer, luxmeter
Set 5. Smart Light Pro : flashlight, magnifier, mirror
Set 6. Unit Converter Pro : unit, currency
What's new:
– Android 12 support
Mod Info:
● No Lucky Patcher / Jasi Patcher / NFG-Multi-Crack & Google Play Modded Needed.
● All Unnecessary Menu Item Remove Like:
– About, Youtube, Visit blog, Send Email & Share.
● Remove Copyright Tile In Main Interface.
● Google Play Service Check Removed / Disabled.
● Play Services, Transport, Firebase Properties Removed.
● All Unnecessary Garbage Folder & File Removed.
● Duplicate Dpi Item Remove Like:
– Bar Length, Drawable Size, Gap Between Bars.
● Splits0 File Removed (Resources & AndroidManifest).
● Splits0 Releated Unnecessary Meta-Data Remove Like:
– Stamp Source, Stamp Type Standalone Apk, Android Vending Splits, Android Vending Derived Apk.
● Removed Debug Information (Source, Line, Param, Prologue, Local).
● Mod Apk Size 8.31 Mb.
TryRoom release
(Modded)