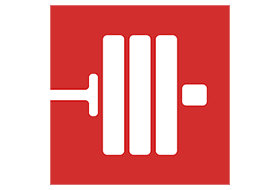 The simplest, most effective workout to get stronger, build muscle and burn fat fast. Three exercises, three times a week, 45 minutes per workout. Thousands of people worldwide have used the StrongLifts 5×5 workout app to get stronger, build muscle and burn fat. All without training more than three times a week.
The StrongLifts 5×5 workout app is like having a personal strength and muscle building coach in your pocket. The app guides you through every StrongLifts 5×5 workout. It shows you which exercise to do each workout, with how much weight, how long to rest between sets and a lot more. This takes the guess work out of your training so you can focus on lifting!
FREE FEATURES
✔ FREE DOWNLOAD
✔ Simple, easy and intuitive design
✔ Integrates the StrongLifts 5×5 workout
✔ Records weights, sets and reps – no more pen and paper!
✔ Know which exercise to do and how much to lift each workout
✔ Auto-alternate workout A/B, switch manually anytime from the menu
✔ Auto-add weight each workout, set increments/microload in settings
✔ Auto-deload/repeat the weight if you missed reps or hit a plateau
✔ Timer suggests how long to rest between sets based on last set
✔ Graphs to view your progresson all the lifts and for body-weight
✔ Calendar for weekly and monthly overviews of your workouts
✔ Notes for tracking assistance exercises or how workout went
✔ Kg/lb – set this on first use, switch anytime in settings
✔ Bar setting: set the weight of your barbell in settings
✔ Backup workouts automatically every week
✔ Videos of workout and exercises
✔ Ad-free!
Get Even Better Results with The StrongLifts Power Pack!
Unlock the StrongLifts Power Pack to gain access to even more features. These will save you even more "brain" work in the gym, help you break through plateaus and allow you to add assistance exercises to emphasize certain muscles. Here are all the features the Power Pack unlocks…
✔ Warmup sets, reps and weights calculator for all exercises
✔ Arm work – extra chinups/dips assistance exercises to build bigger arms
✔ Custom Assistance work – add your own custom assistance exercise to StrongLifts 5×5
✔ Plate calculator – list breakdown of plates to add with easy graph displays
✔ 3×5/3×3/1×3 – break plateaus by switching to 3×5/3×3/1×3 once 5×5 stops working
✔ Pro Backup – backup your workouts to dropbox or google drive, and export them to csv
Note: purchasing the Power Pack also supports the team behind this app, and keeps the app free of ads. If you find the app helpful, purchase the Power Pack to support us.
About StrongLifts 5×5
StrongLifts 5×5 is the simplest, most effective workout to get stronger, build muscle and burn fat. 3 full body compound exercises exercises, 3x/week, 45 mins per workout. The first workout A you Squat, Bench and Barbell Row. After taking one day rest, you do the second workout B – Squat, Overhead Press and Deadlift. Start light to focus on form and build confidence under the bar, then add weight each workout.
Permissions
– Internet to send crash reports so we improve app
– Photos/media/files to backup your workouts
– Vibrator for rest timer alarm between sets
– In-app purchases to unlock extra features
Support
If you experience issues with the StrongLifts 5×5 workout app or have suggestions to improve it, we'd love to hear from you! Just contact us from the app by going to menu – help. This way we have your phone info.
Like StrongLifts 5×5?
If you like this StrongLifts 5×5 app, rate it 5-stars and give it a +1 so more people find it. -Mehdi
What's New:
Thanks for using StrongLifts! In this update:
– FIX: Incorrect Madcow starting weight and progression calculations
– FIX: FIX: Done sets being cleared if weight changes
Mod Info:
Pro / Paid features unlocked;
Disabled / Removed unwanted Permissions + Receivers + Providers + Services;
Optimized and zipaligned graphics and cleaned resources for fast load;
Ads Permissions / Services / Providers removed from Android.manifest;
Google Drive Cloud broken;
Google Play Store install package check disabled;
Debug code removed;
Remove default .source tags name of the corresponding java files;
Analytics / Crashlytics / Firebase disabled;
Languages: Full Multi Languages;
CPUs: universal architecture;
Screen DPIs: 160dpi, 240dpi, 320dpi, 480dpi, 640dpi;
Original package signature changed;
Release by Balatan.
(Modded)