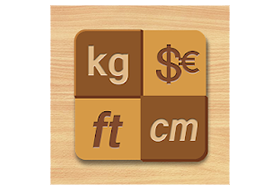 Unit converter Pro is the 6th set of Smart Tools® collection.
This app includes Currency (money, bitcoin) exchange rates. It has no ads, and ads are replaced by useful texts.
There are a lot of unit conversion apps on the market. However, most are inconvenient and difficult to use because of poor and complicated UI.
This app has intuitive and simple UI, that is designed for casual user like you. Believe me. 🙂
I've sorted essential unit sets for your daily life into 4 categories.
– Basic : length (distance), area, weight (mass), volume (capacity)
– Living : exchange rate, temperature, time, speed, shoes, clothing, hat
– Science : pressure, force, work (energy), power, torque, flow, current, voltage, density, viscosity, concentration, astronomy
– Misc. : angle, data, fuel efficiency, cooking, illuminance, radiation, prefix, binary, time zone, blood sugar, AWG
* Do you want more tools? Get [Smart Tools] package.
For more information, watch YouTube and visit the blog. Thank you.
★ android.permission.INTERNET : for receiving the latest exchange rates from the servers.
** No internet support : You can open this app without any connection. After installation, open the app 2-3 times with your device connect to WI-FI or 3G/4G.
What's New:
– v2.5.11 : Minor fix
Mod Patched Info:
No root or Lucky Patcher or Google Play Modded required;
Disabled / Removed unwanted Permissions + Receivers + Providers + Services;
Debug code removed;
Languages: Full Multi Languages;
CPUs: universal architecture;
Screen DPIs: 120dpi, 160dpi, 240dpi, 320dpi, 480dpi, 640dpi;
Original package signature changed;
Release by Balatan.
(Modded)