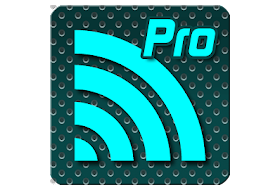 WiFi Overview 360 – The universal WiFi tool, incl. Widgets
WiFi Overview 360 and the Pro version is not only a WiFI-Scanner, which shows all WiFis in range, the app is much more. This app is a "Swiss Army Knife" for WiFis.
With this tool you can manage and optimize your used wireless network and with one look you'll get detailed information of the WiFis (WiFi name (SSID), signal strength, channelnumber, encryptionin – open or not and much more) in your environment.
The tab "Ch Check" (Channel Checker) and "Ch. Radar" (Channel Radar) are powerful tools to optimize your own WiFi network. For best performance your network must use a channel or frequency range where are no other wireless networks or little as possible. WiFi Overview 360 gives you the best choice for the channel.
With a powerful "WiFi Detector/Sniffer" (only Pro Version), who expanded the Android function enormously. "WiFi Detector" looking for open WiFis, gives a notification (sound, pop-up text window, vibrate and text-to-speech – if you want) and can connect automatically.
Main features are:
– WiFi Detector – the powerful open network finder (only Pro version)
– "Quick connect shortcut", you can set a shortcut to switch/connect quick and easy between/to WiFis (only Pro version)
– change WiFi priority manually (only Pro version)
– included 1×1, 2×1 and 4×1 widgets with different styles
– WiFi scanner
– WiFi sorting options for "strength", "alphabetically", "channel" and "open/known Wi-Fis"
– automatic WiFi activation at startup – if off, and automatic turn-off at the end
– manual way to add a network
– detailed WiFi information
– graphical representation of all wireless networks in the operating range
– channel checker for the best channel choice
– Tablet support
– WiFi Internet connection check
– and much more …
What's New:
better Android 11/12(S) support
bug fixes
numerous code optimizations
performance improvements
stability improvements
Package Info:
Languages: Full Multi Languages;
CPUs: universal architecture;
Screen DPIs: 120dpi, 160dpi, 240dpi, 320dpi, 480dpi, 640dpi;
Untouched apk with Original Hash Signature, no [Mod] or changes was applied;
Certificate MD5 digest: 2a19f3327777b087c968f7db7bec1b24
(Paid)