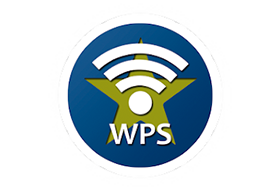 WPSApp Pro is the version without ads of WPSApp, checks the security of your network using WPS protocol.
This protocol allows you to connect to a WiFi network using an 8-digit pin number that usually is predefined in the router, the problem is that the pin of many routers from different companies is known or is known how to calculate it.
This app uses these pins to try the connection and check if the network is vulnerable. It implements several known algorithms for pin generation and some default pins. Also calculates default key for some routers and allows you to view WiFi passwords stored on the device.
Use is very simple, when scanning networks around us, you will see networks with a red cross, these are "secure" networks, they have disabled the WPS protocol and default password is unknown.
Those that appear with a question mark have enabled the WPS protocol, but the pin is unknown, in this case the application allows you to test the most common.
Finally, those with a green tick are most likely vulnerable, have the WPS protocol enabled and the connection pin is known. It may also be that the router has WPS disabled, but the password is known, in this case it also appears in green and can be connected to the key.
For pin connection you need to be ROOT user in less than Android 5.0 (Lollipop) versions. The advantage of being ROOT is that you can show network password if the pin connection is successful we will, otherwise you will connect to the network but cannot show it. Each feature will be enabled or disabled depending on the situation of each terminal.
NOTICE: Not all networks are vulnerable and that the network appears as such does not guarantee 100% that it is, several companies have updated firmware of their routers to correct the fault.
TRY IT ON YOUR NETWORK AND IF YOU ARE VULNERABLE… REMEDY IT. Turn off WPS and change password for a strong and personalized.
I AM NOT RESPONSIBLE FOR ANY MISUSE, INTRUSION INTO FOREIGN NETWORKS IS PUNISHABLE BY LAW.
Some Samsung models use encryption and do not show real passwords, they show a long series of hexadecimal digits. Look for information on the internet or contact me if you want to know how to decrypt them.
Please understand how the application works before giving an assessment.
WARNING: Beware of copies of this app detected on Google Play, they can be dangerous.
What's New:
v1.6.63
– New pins and new vulnerable routers.
– Bug fixes.
Mod Info:
No root or Lucky Patcher or Google Play Modded required;
Disabled / Removed unwanted Permissions + Receivers + Providers + Services;
Optimized and zipaligned graphics and cleaned resources for fast load;
Google Play Store install package check disabled;
Debug code removed;
Remove default .source tags name of the corresponding java files;
AOSP compatible mode;
Languages: Full Multi Languages;
CPUs: armeabi-v7a, arm64-v8a, x86, x86_x64;
Screen DPIs: 160dpi, 240dpi, 320dpi, 480dpi, 640dpi;
Original package signature changed;
Release by Balatan.
(Modded)