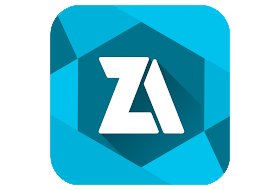 ZArchiver Pro – is a file manager with many features for managing archives. The program has a simple and functional interface.
Benefits of Pro version:
* Support for external memory and MicroSD
* Dark and light themes;
* Storage of passwords;
* Preview images in the archives;
* Modification of files in the archive (archiver, after returning to the application checks whether the modified open files directly from the archive and offers to update them in the archive).
ZArchiver allows you to:
* Copy / delete / rename files and folders;
* Create archives: 7z (7zip), zip, bzip2 (bz2), gzip (gz), XZ, tar;
* Unpack the archive: 7z (7zip), zip, rar, rar5, bzip2, gzip, XZ, iso, tar, arj, cab, lzh, lha, lzma, xar,
* Create and extract archives with a password;
* Create and decompress multivolume archives: 7z, rar (decompress only);
* Modify the contents of the files (add / remove files): zip, 7zip, tar, apk, mtz;
* Partially extract files from the archive;
* View files from the archive;
* Opening of letters attached to the archives.
Features:
* Supports multi-threaded operation (useful for multicore processors);
* Supports Unicode (no problems with Russian names of files in the archive);
* To select files, there is no need to go into the menu and include multi-selection option. Simply press on the file and they will be allocated;
* There are binding to the extension;
* Version 0.7.x line since 0.7.2 supports black-and-white design for 'newsreaders' and update the screen NOOK devices.
What's New:
1.0.8
– context menu on tablets;
– Android/obb access using ACTION_INSTALL_PACKAGE permission on Android 13;
– minor fixes.
Package Info:
Languages: Full Multi Languages;
CPUs: armeabi-v7a, arm64-v8a, x86, x86_64;
Screen DPIs: 160dpi, 240dpi, 320dpi, 480dpi, 640dpi;
Untouched [Paid] apk with Original Hash Signature, no [Mod] or changes was applied;
Certificate MD5 digest: 65cc810efcb20f17e5ae98727b2fb804
(Paid)
armeabi-v7a
arm64-v8a
x86
x86_x64