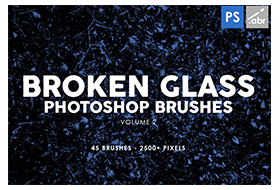 This brush textures are high resolution and could be a great addition to any project! For example – photo manipulation, digital art, photography, as background or decorative element.
BROKEN GLASS PHOTOSHOP STAMP BRUSHES FOR PHOTOSHOP CS2 – CS3- CS4 – CS5 – CS6 – CC(All versions)
45 Brushes inside, 3000+ pixels size, works with any photoshop version!
(Retail)