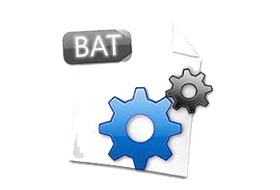 Bat2Exe is a simple and straightforward utility that has the role of converting batch files into executable and can come in handy to both advanced and average users.
Includes a few options you can mark before the conversion
The application is portable and hence, does not require you to install or configure anything, so simply download and decompress the archive in the desired location. The interface includes two main tabs, a main one where you can mark some options and the compile window.
In the main option tab, you can add a custom icon to the executable and choose between two methods of conversion. Although neither are specified, the developer provides three methods of compression in the Other Option box, namely LZMA, GZIP and QUICKLZ. Other options available include hiding the console when the end user opens the executable. Before you proceed to compiling, you can also choose between a couple of obfuscation methods, namely alphabet and junk.
Once you mark the desired specifications, you can proceed to compiling the tool, an operation that takes up to a few seconds. Speaking of the Compile tab, you will be happy to learn that the tool includes a log box that displays all changes being made, files selected and whether the conversion was successful.
A simple and straightforward tool that converts BAT to EXE files
It is important to note that the application can solely process one file at a time. Therefore, it may not be the best choice for an advanced user who wants to make numerous scripts more accessible to others, as it may take a lot of time and energy.
In the eventuality that you want to convert your batch files into executables so that perhaps others using your computer can employ them for various tasks, then perhaps you can consider giving Bat2Exe a try.
Official compiled release of Bat2Exe.exe here. Along with bytepress, and all used folders.
Update Log
Added batch script encoding option (BOM)
Improved update checking
Small UI Changes