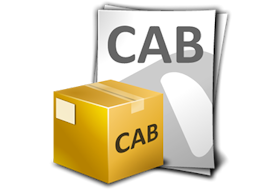 Special utility for making cab files even it was a file or folder. Tested to be working perfectly and nice. For those who wonder how to making own cab files should try this tools. Cab is old style compression used by microsoft.
If you seem those kinda files in ex_ pn_ format, it was a cab files. Or folder with .cab extention is was cab files too. If wanna modified or mod the files and replace it. You surely need this tool for making life easier.
1-Right Click on a Folder and Send To –> Cab Maker [will Compress the inside the folder (only Files)]
2-Right Click on a Files and Send To –> Cab Maker [it will try to extract it if it's a cab file] or [it will compress it using MakeCab]
3-Right Click on a Multi Files and Send To –> Cab Maker [it will Make a cab file that have them]
Program won't install any shortcut but only available when right click on files or folder via SEND TO……….
Created by
All credit for the author of the special tool.
(Silent Install Repack)