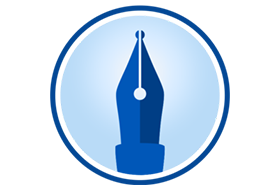 Depend on the trusted power of WordPerfect® Office Professional 2021 to create and deliver impressive documents, presentations, spreadsheets, and more. With built-in PDF functionality, enhanced Reveal Codes, eBook publishing, and the Paradox database management system, you'll have all the support and familiar tools you need to work more efficiently. Collaboration is made simple with support for more than 60 file types, including the latest Microsoft Office formats. Plus, tap into user-suggested enhancements to streamline your most important workflow requirements.
The office suite tailored for your business needs
– Built-in PDF forms
– Legal specific tools and features
– Extensive file compatibility, including Microsoft
– File-based Paradox database management system
WordPerfect
The legendary word processor that so many swear by to create documents, letters, brochures, resumes, and more. With compatibility of over 60 file-formats, including Microsoft, and powerful Reveal Codes, document control has never been easier.
Quattro Pro
Take advantage of Quattro Pro to build comprehensive spreadsheets for budgets, invoices, expenses, and receipts. Open, edit and create files, including Microsoft Excel, to organize, analyze and share data.
Presentations
Prepare, design, then deliver captivating presentations. Slideshows, proposals, demos, and interactive reports are all made easy with Presentations 2021. Compatibility with Microsoft PowerPoint files and wireless remotes ensure efficiency.
WordPerfect Lightning
Use WordPerfect Lightning to collect text and images from multiple sources then reuse what you need by exporting a document, sending an email, or posting it to a blog.
Paradox Database Management
Use Paradox to easily track, manage, and retrieve data. Paradox offers reliability, flexibility, and control when dealing with mission critical data.
MultiCam Capture Lite
Video capture software that lets you capture video on multiple cameras, including built-in webcams and your computer screen, and uses your PC as a capture hub so all videos are synchronized and ready to compile into a seamless video production.
Powerful features designed with your productivity in mind:
Favorite features
– Enhanced! Reveal Codes
– Redaction
– Metadata Removal
– Bates Numbering
– WordPerfect eBook Publisher
Productivity
– Macro Manager
– Find it With Favorites
– Mail Merge Expert
– Keystroke Menu
– Make It Fit
Compatibility
– File Format Support
– Save to Multiple Formats
– Publish to HTML
PDF Support
– PDF Form Feature
– PDF Import
– PDF Export
– PDF Security and Archiving
Customization and support
– Function Key Template
– Web Services Integration
– Legal Toolbar
File previewing and viewing
– New! Open Footnotes and Endnotes for Editing in a Click
– Template Viewer
– Windows Explorer and Microsoft Outlook File Previewing
– Open More Documents
Tech Specs:
– Windows 10*, Windows 8.1 or Windows 7 with the latest updates/service packs
– 1 GHz or faster (x86) or an AMD64 processor
– 1 GB RAM (x86) or 2 GB RAM (AMD64)
– 2.75 GB hard disk space for application files
– 1024 x 768 screen resolution
– Mouse or tablet
– DVD drive (Required for box installation)
– Microsoft Internet Explorer 11 or higher
Thanks to flash13 and alf9872000 sharing. Special thanks to XFORCE Keygen
(Installer)
(Keygen)