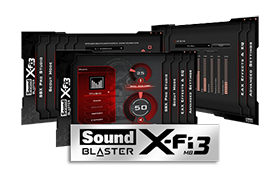 The Sound Blaster X-Fi MB3 software suite is a powerful audio platform equipped with cutting-edge audio technology, offering premium audio quality, effects and features for ordinary PC systems equipped with only basic onboard audio. It features SBX Pro Studio™ suite of technologies, which is designed to give you the fullest audio experience.
Win battles with Scout Mode™, a proprietary technology that allows you to hear your enemies from further away, as you get a definitive advantage in combat!
Creative EAX® ADVANCED HD 5.0 features state-of-the-art multi-environment rendering and reverb modeling that deliver an amazingly realistic and immersive 3D gaming experience than ever before.
Creative ALchemy is a powerful tool that restores EAX effects and 3D surround audio for legacy, DirectSound3D game titles running on Windows Vista and Windows 7, re-enabling that same great gaming experience.
OpenAL support ensures compatibility with a wide range of PC games developed with OpenAL for an incredible 3D audio experience.
VoiceFX technology enables you morph your voice in real-time letting you take on another persona and stay in character, adding flair to your online role-playing experience.
* VoiceFX is only available for OEM-bundled version
With SBX Surround*, you can free yourself from the limits of physical 7.1 audio. Immerse yourself right in the middle of your game.
*feature found in SBX Pro Studio
Other audio technologies such as a 10-band graphic equalizer allow you to enhance your gaming audio even more. These essential audio effects and controls can be conveniently accessed in Sound Blaster Console.
Experience how gaming audio should be, with Sound Blaster.
Great for Gaming
For gamers, get ready to be blown away by the amazing realism from the unrivaled headphone surround and gaming sound enhancement technologies delivered by Sound Blaster X-Fi MB3.
SBX Pro Studio™ suite of audio technologies create unprecedented levels of audio realism, add dynamics and punch to every gunshot, explosion and gaming sound. It includes stunning surround effects, producing an incredibly realistic surround sound experience even from just a pair of stereo headphones.
A Closer Look At Your Product
System Requirements

Supported HD-Audio codec and driver
Microsoft Windows® 7 (32-bit or 64-bit)
Microsoft Windows® 8 (32-bit or 64-bit)
Microsoft Windows® 10 (32-bit or 64-bit)
Intel® Pentium® Dual Core, AMD Athlon 64 Dual Core or equivalent processor, 2.0GHz or faster

Internet connection for software purchase and activation

For customers who have lost the downloaded file, click on the "Download Software" button to download the Sound Blaster X-Fi MB3 installation files again.
Remark:
24 August 2015 – Fixed to be working with windows 10 now. This is a powerful X-FI stuff. Can listen your mp3 in crystallizer that i love to use in 100% with my creative x-fi titanium. Try it guys. Guarantee BOOM your ears! 🙂 Enjoy! Music lovers should love this one. By the way you will get higher volume as well.

25 August 2015 – Success to make it fully silent install. You don't need to have creative sound card. It was a  software solution of Creative SBX Prostudio that will rocks your own sound card without having creative sound card. Try it and you will love it. It was a pure software solution to gain the creative sound effect such as Cystalizer (My favories). Smart volume is new addon from creative that makes no more shock volume music while watching youtube on some channel. Shocking loud music with lower talking voice is now totally fixed with this function.
26 August 2015- Minor fix, some driver recab to gain perfect zero bugs in this release and auto insert cert for full silent install.
17 September 2019 – Fixed Antivirus false positive ….

(Cracked Silent Install)