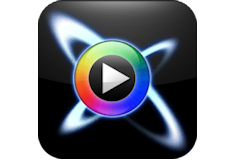 CyberLink PowerDVD 14 is the ultimate universal media player for 4K, Blu-ray, 3D and DVD discs, movies and videos files, including MKV, MPG4, AVCHD, also UltraHD 4K and HEVC (H.265) videos.
It is the number one choice to play media from your PC, home network, connected devices, your content in the cloud, and social networks. CyberLink PowerDVD 14 plays all types of media content – movies, videos, photos and music. It brings the best in video and audio technologies to upgrade all your viewing experience to UltraHD 4K and HEVC, including streamed content via home network, or Youtube or Facebook pages. CyberLink PowerDVD 14 can play music files in MP3, FLAC, ALAC and popular formats. Create video, music and photo playlists.
CyberLink PowerDVD 14 lets you watch camera RAW, photo slideshows with pan and zoom, YouTube, Facebook, Vimeo and Flickr content.
CyberLink PowerDVD 14 Ultra comes with 10GB of FREE cloud storage for the 1st year. You can easily manage your content from PowerDVD or from the CyberLink Cloud web interface.
With CyberLink Cloud, you can sync photos, videos, music and playlists across all your devices wirelessly and automatically. Manage and enjoy all your media in one place. Browse videos and photos in Calendar view.
With your media stored in the cloud, you can access and stream your content to any PC with CyberLink PowerDVD 14 or mobile device using the Power Media Player mobile app.
CyberLink PowerDVD 14's unique TrueTheater enhancements make movies come alive with sharper detail, enhanced lighting, smoother motion and immersive surround sound effects. Instantly convert movies and slideshows to eye-catching 3D!
• TrueTheater HD – Upscale video to HD quality and beyond
• TrueTheater Motion – Up-convert frame-rate for smoother video playback
• TrueTheater 3D – Turn 2D movies, photos and videos into 3D
• TrueTheater Lighting – Experience superb colors and enhanced image detail
• TrueTheater Stretch – Intelligently expand 4:3 video to 16:9 widescreen
• TrueTheater Stabilizer – Minimize the shakiness of your videos
• TrueTheater Denoise – Reduce artifacts from shooting in low light
• TrueTheater Surround – Expand stereo output for home theater-style surround sound
Enjoy High Fidelity HEVC/H.265 Video
CyberLink PowerDVD 14 now supports the brand new HEVC/H.265 format. This next-gen advanced video format is designed for higher quality entertainment and more efficient delivery.
• Higher Quality – Enjoy super high pixel fidelity and video resolution with new codec technology
• Faster Downloads – Download HD movies in less than half the time you currently do
• Store More – Fit a year's worth of movies into your slim Ultrabook
HD Surround Sound for Your HD Movies
Match your visual experience with the best audio available. CyberLink PowerDVD 14 offers a high quality listening experience for all your media.
• Enjoy HD audio using WASAPI Exclusive Mode that configures audio devices to match the source format thereby avoiding quality degradation
• Lossless pass-through for Dolby TrueHD and DTS-HD Master Audio
• Support for HDMI 1.4 for multi-channel high definition audio
• Enjoy cinematic soundtracks with 7.1 channel audio
• Expand 2-channel audio to 6.1 channel sound with Dolby Digital EX
• Experience 5.1 surround sound on headphones and stereo speakers with Dolby Virtual Speaker and CyberLink TrueTheater Surround
• Play music in lossless formats including FLAC, APE, and high quality DTS 24/96
8 FEB 2015 – Remove all powerdvd file association. Better activation.
(Registered Repack)