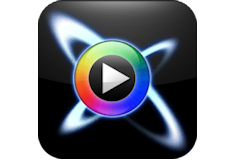 CyberLink PowerDVD 16 is the latest edition of the powerful do-everything media player.

The program supports just about every audio and video format, pictures, CDs, DVDs, and a host of Blu-ray and high-definition disc types.
There's real depth here. You want to play 3D movies, browse 3D images? No problem. H.265 footage, XAVC-S 4K videos are supported, too. No need to worry about audio – Dolby Digital/ Plus/ TrueHD, AAC, DTS 96/24 and DTS-HD are just some of the supported formats. It even plays ISO images without you having to burn or mount them first.
That's just the start. PowerDVD's TrueTheater enhances video and sound for the best quality; an ultra-configurable library helps you manage your media collection; you can stream files locally across your network, or share them online with YouTube and Vimeo.
Version 16 brings a brand-new TV Mode, a revamped interface designed to be viewed on a large screen TV, and controlled from your mobile using the enhanced PowerDVD Remote app.
Or if you want to go further, PowerDVD can now wirelessly stream media to Roku, Chromecast and Apple TV devices, as well as connecting via DLNA. (You don't have to worry about supported file types: the program converts them if necessary.)
The program now handles more formats, including MVC and DSD audio.
New batch processing support means you can extract the audio from multiple files.
And version 16 comes with a free year's subscription to 30GB of space (up from 20GB last time) on CyberLink Cloud, where you can store media, sync it across your devices or share it with others.
PowerDVD is also available in two more basic editions.
PowerDVD Pro drops DLNA and media casting, can't handle 3D movies/ pictures, doesn't have free Cloud space, loses the new TV Mode, has only a limited Media Player app, doesn't support 7.1 audio and misses out on a few other advanced features (no ISO playback).
PowerDVD Standard also drops Blu-ray support, has reduced audio format support and no social media options.
Remark: I just tested on windows 10 here. Please let me know if it is working well with windows 7. Thanks guys and gals.
(Registered Silent Repack)