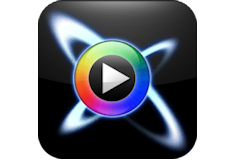 CyberLink PowerDVD 18 is your essential entertainment companion for video, audio, photos, VR 360˚ content and even YouTube or Vimeo.
CyberLink PowerDVD 18 is optimized for playback on the latest Ultra HD 4K and HDR TVs.
CyberLink PowerDVD 18 ensures you'll have the sharpest, clearest audio-visual quality. Whether you're watching the latest Ultra HD Blu-ray discs, classics from your DVD collection, or the latest online entertainment from YouTube and Vimeo.
Wirelessly cast whatever your heart desires on the latest 4K UHD HDR TV and multi-channel sound system without any quality loss.
Even upscale your old DVDs, Blu-ray discs and media files so that you can enjoy them the way they were made to be enjoyed.
CyberLink PowerDVD 18 is your portal to the future of entertainment. Access thousands of hours of Virtual Reality and 360° video no matter if you have a headset or not! You can even access a treasure trove of curated VR content from YouTube.
Key Features of CyberLink PowerDVD 18 include:
Ultra HD Blu-ray – the world's first solution to play 4K Ultra HD Blu-ray titles on Windows PCs.
HDR 10 – PowerDVD 18 provides the capability to play HDR 10 videos, which provides better resolution, higher framerate and high dynamic range.
H.265/HEVC on Windows 10 – PowerDVD 18 enables users to watch videos shot using the H.265 codec (common across popular video recording devices like iPhones and GoPros), even though Windows 10 does not natively support.
Tri-View 360° Viewing Mode – an updated interface that shows every angle at a glance so that you never miss a moment of a 360° video, perfect for watching on a PC.
Live Streaming – watch live content on YouTube with better picture quality and HDR support, delivering the best viewing experience possible.
Play and Pin Online Videos – save online videos so they can be watched later, even without an internet connection.
Mini View – watch video content in a separate mini window that's always on top of your desktop screen, making on-screen multitasking easier than ever. .
Media Casting – newly added support for Fire TV, in addition to Roku, Apple TV and Chromecast enables users to cast video, photo or music files to their TV. Even in formats that aren't natively supported by their streaming device.
True Full Screen for Blu-ray – when watching a Blu-ray disc on an ultra-widescreen TV (21:9 or 2.35:1 aspect ratio), PowerDVD 18 intelligently adjusts playback so that content fits your screen. No more letterboxing.
TrueTheater HDR – upscales standard video to HDR-like quality for better viewing on HDR displays. Combine with a host of other TrueTheater technologies for the ultimate visual and audio quality.
Power Media Player MR – dive into a world of virtual and mixed reality content with curated online content for the latest Windows MR headsets.
Supported Operating Systems:
Ultra HD Blu-ray: Microsoft Windows 10 (64-bit with 2015 Nov. updates)
HDR10: Microsoft Windows 10 (with Fall Creators Update; Nov. 2017)
Blu-ray Disc, DVD, and TrueTheater 3D Playback: Microsoft Windows 10, 8.1, 8, 7 with Service Pack 1
VR Mode: Windows 10, 8.1, 8, 7 with Service Pack 1
What's New in CyberLink PowerDVD 18:
True Full Screen for Blu-ray playback on 21:9 aspect ratio – NEW
Interface Optimized for Big Screen TVs – UNIQUE
Cast Video, Photo, Audio to Fire TV – NEW
Apply TrueTheater Enhancements to Video and Audio in TV Mode and Casting – UNIQUE
Multi-angle view for 360° video and photos – NEW
Auto-pan 360° photo in slideshow – NEW
TrueTheater Enhancements – UNIQUE
Play and Pin YouTube HDR content – NEW
Watch YouTube Live – NEW
YouTube Subtitle Support – NEW
Play Vimeo 360 Videos – NEW
webM Support (VP9/9.2 + Opus) – NEW
CyberLink Cloud Services – UNIQUE
Always on top Mini View for Video – NEW
(Registered Silent Install)