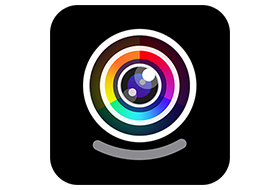 The Best Webcam Software for Streamers, Business and Home Users. Turn your webcam into a live video studio. Integrate YouCam seamlessly into video call services like Skype, Zoom & U Meeting, as well as Facebook and YouTube Live or even Twitch. Apply real-time skin enhancements and makeup to look your best. Add life to your meetings, streams, and broadcasts with over 200 augmented reality effects, customized titles and images.
YouCam for Streamers, YouTubers and Vloggers
Use YouCam during your live streams to engage with your community of followers in a uniquely compelling way and grow your fan base. YouCam works with popular video recording, broadcasting and live-streaming services such as Twitch, Facebook Live, YouTube Live, OBS Studio, XSplit, and Wirecast.
Customizable Titles and Images for Live Streaming (NEW)
Add customized titles and images to your live-stream sessions. Showcase channel logos, advertising, promotional messages, and sponsorships.
Use with Popular Streaming Services
YouCam is a perfect companion to Twitch, Facebook Live, YouTube Live. Make it your virtual camera when using OBS Studio, XSplit, and Wirecast.
YouCam for Business
Look your best in every video conference. Sharpen video quality and project a healthy face with real-time skin enhancement tools and virtual makeup. YouCam works as a plug-in for popular video conference services, including Skype, CyberLink U Meeting, and Google Hangouts.
Look Sharp with Live Makeup (NEW)
YouCam's AR technology identifies your unique facial structure, features, and tone matrix to apply natural-looking makeup in real time. Create your own presets, or choose from a large selection of readymade palettes.
Live Skin Smoothing
Don't let bad lighting make you look tired. Whether you're chatting online, or livestreaming on Facebook or YouTube, real-time skin smoothing reduces visible blemishes and wrinkles on your face.
Lighting, Sharpness & Denoise Adjustments
YouCam, using TrueTheater™ technology automatically adjusts lighting and sharpness for a visually pleasing image. Intuitive controls let you manually adjust noise reduction, contrast, and brightness.
Business Presentation Recording
Turn PowerPoint slides into engaging presentations by choosing from a selection of layouts using PiP video or side-by-side display. Add effects from a wide collection to bring your work to life. You can also free-hand draw or record mouse cursor movements to highlight key areas.
Face Login and Face-out
Your face is your safest password. Face Login will log you into Windows when you present your face in front of the webcam. For added security, Face-out can lock your PC when your face is not in front the webcam.
YouCam for Home Users
YouCam brings a feast of 200 lively and exciting effects, animojis, filters, particles, and distortions to add fun to your video chats and recording projects.
Real-time Video Effects
Apply over 200 lively effects to your video chats and recording projects, with thousands more available for free download on DirectorZone.
Animojis and Gadgets
Experience augmented reality with face-tracking accessories and hilarious animojis. They can be paired with other effects to double the fun!
Particles, Filters and Distortions
The many webcam effects available in YouCam include colorful interactive particles, as well as funhouse-like filters and distortion effects.
Frames and Scenes
Blend the image from your webcam with another image effect. Use them to spice up your videos and compose the perfect portrait or profile picture.
Get Creative with Photo Editing
Enhance webcam photos using a range of brush sizes and colors, or try freestyle drawing using your fingers on a touch-screen. Use photo presets to add an artistic touch to your pictures. Rotate and crop webcam photos to extract the best parts.
Face Beautification Tools
YouCam's facial recognition technology and suite of beautifying tools allow you to touch up your facial features, remove imperfections and make subtle enhancements. A perfect selfie, straight from your webcam!
Minimum System Requirements
– Microsoft Windows 11, 10, 8.1/8, 7
– Intel Core™ i5 or AMD Phenom® II X4 B60
– Memory: 4GB
– Hard Disk Space: 1GB for product installation
– 1024 X 768 pixels, 16-bit color
– Web camera (built-in or external USB)
Supported Languages
– English
– French
– German
– Italian
– Spanish (European)
– Chinese Simplified
– Chinese Traditional
– Japanese
– Korean
(Cracked Silent Install Repack) x64