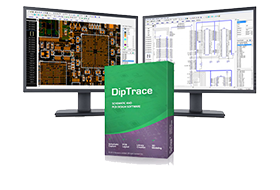 DipTrace is quality Schematic Capture and PCB Design software that offers everything to create simple or complex multi-layer boards from schematic to manufacturing files.
DipTrace is first of its kind intuitive CAD software, featuring:
Easy to learn User Interface
Multi-sheet and hierarchical schematics
Shape-based autorouter
Smart manual routing tools
Wide import/export capabilities
High-speed signaling
Advanced verifications and Real-time DRC
Real-time 3D PCB preview & STEP export
Manufacturing output
Commitment to the future
After a couple of hours you become productive with simple boards and then improve your skills step-by-step. Basic features are enough for simple projects and advanced capabilities should be used for complex circuit boards.
All DipTrace modules share similar interface conceptions and design basics. The tutorial contains detailed instructions for all stages of the board design. It is included in the DipTrace installation package.
Version 4.1.2 (March 22, 2021)
– Downloading 3D model for SnapEDA parts, polishing SnapEDA feature.
– Checking component prices and availability with direct links to suppliers.
– IPC-7351 Libraries of Con Memory Cards.
Special Thanks to TESRam/TSRh
May detect as false positive. Skip AV
(Installer with crack) x86 4.1.3.1

(Installer with crack) x64 4.3.0.5