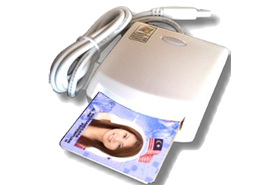 Low cost MyKad Reader and MyKid Reader Device with Software. All in one simple to install and use solution for your Windows based Computer Systems. With advanced printing and PDF export options.
Read MyKid and MyKad Data from the respective chips into your computer with Geni Software MyKad Reader Device and Software bundle. Low cost solution MyKad Data Capture. Enables data to be printed and saved to PDF files. Create your own forms and add MyKid or MyKad Data to the the final print out. Easy to install solution for business users. A solution that saves you a lot of time and money. Capture data accurately. Captures data and photo in less than 15 seconds.
Easy to install. With some basic computer knowledge, installation is fast and simple. Latest version of this software is available as a download from this site. Download and follow the instruction to install the software and drivers. Then insert the MyKad Reader Device to USB port. Insert a MyKid or MyKad into the reader device and operate the software to read the data from MyKid or MyKad. View data on the screen including photo. Print the data or save the data to PDF.
Remark: Special thanks to Mano (TSRh) loader
Just maybe someone need it…
(Installer with loader)