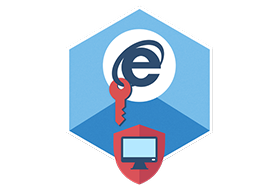 Instantly extract passwords, stored forms and AutoComplete information from popular Web browsers and email clients. View individual passwords, export all data into a text file or build a perfect custom dictionary to speed up password recovery attacks performed with other tools.
Extract passwords and autocomplete forms from all popular Web browsers
View individual passwords or export everything into a text file
Build a custom dictionary and achieve up to 70% success rates when attacking encryption passwords
Recover login and password information to various online services
Supports: Google Chrome, Microsoft Internet Explorer, Microsoft Edge Chromium, Microsoft Edge Legacy, Apple Safari, Mozilla Firefox, Tencent QQ Browser, UCWeb UC Browser, Qihoo 360 Safe Browser, Opera, Tor and Yandex Browsers, POP3, IMAP, SMTP and NNTP passwords, Microsoft Outlook, Outlook Express, Windows Mail and Windows Live Mail, Thunderbird.
Reveal Stored Internet Passwords
Elcomsoft Internet Password Breaker instantly reveals Internet passwords, retrieves login and password information protecting a variety of Web resources and mailboxes in various email clients. The tool instantly extracts passwords, stored forms and AutoComplete information in popular Web browsers, and captures mailbox and identity passwords from popular email clients.
The following Web browsers are supported:
Google Chrome
Microsoft Edge Chromium
Microsoft Edge Legacy
Microsoft Internet Explorer
Mozilla Firefox
Apple Safari
Opera
Yandex Browser
Tencent QQ Browser
UCWeb UC Browser
Qihoo 360 Safe Browser
Tor Browser
Make Dictionary Attacks More Effective
According to various researches, some 70 per cent of consumers reuse their passwords. In as many as 70 per cent of cases, a password protecting a hard-to-crack Office 2013 document, BitLocker volume or RAR5 archive would be a simple variation of one of the user's other passwords. Using the filtered wordlist produced by Elcomsoft Internet Password Breaker in Elcomsoft Distributed Password Recovery with simple mutations (such as appending up to 4 digits to the end of each password) can solve up to 70 per cent of cases in a matter of minutes. Adding a more complex mutation will increase the time spent on attacks, but may deliver even better results.
System requirements
Windows
Windows XP
Windows 2000
Windows Vista (32 bit)
Windows Vista (64 bit)
Windows Server 2003/2008-2019
Windows 7
Windows 8
Windows 8.1
Windows 10
Special thanks to shankar (TSRh) sharing
(Cracked Silent Install Repack) x86