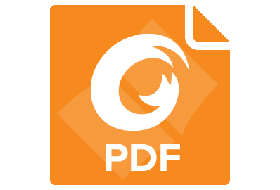 Foxit PDF Reader is the only eligible alternative reader/viewer for PDF files (eBooks). It's free, smaller, faster, and cleaner. And it starts up immediately, so you don't need to wait the annoying "Welcome" screen to disappear.
Foxit PDF Reader is extremely easy to use, just double click it to start and then click open button to open your PDF document. If you want to print, click on "Print" button. If you want to setup the page layout for printing, select "Print Setup" from "File" menu. Foxit Reader supports Windows 98/Me/2000/XP/2003/Vista.
Unlike Adobe® Reader, this one has size about than 2.5 MB, needs no installation and opens up immediately. You don't need to go throught lengthy installation process to start using Foxit PDF Reader, just UNZIP the downloaded "pdfrd.zip" package into any place you want, then run PDFReader.exe. You can set Foxit PDF Reader as your default PDF reader, so you can double click on PDF files to open them within Foxit PDF Reader.
Industry's most powerful PDF reader.
View, annotate, form fill, and sign PDF across desktop, mobile, and web – no matter if you're at the office, home, or on the go.
Read and Print
Experience the power of PDF through a full functioned PDF Reader. Reading and printing PDF couldn't be easier. Leverage existing forms and workflows with standard PDF (Acroforms) and XFA (XML Form Architecture) form filling.
Read

PDF Anywhere

Foxit PDF Reader is available on Windows, macOS, iOS, android, the web, and Linux, providing a consistent reading experience no matter where you are and what device you're using.
Collaborate

and Share

Integrate with leading cloud storage services and popular enterprise CMS. Collaborate through shared reviews while providing document feedback with a large variety of annotation tools. Add images, videos, and file attachments.
Protect

and Sign

Sign documents in your own handwriting or utilize eSignature and verify the status of digital signatures. Be safe from vulnerabilities by utilizing Trust Manager/Safe Mode, ASLR & DEP, Disable JavaScript, and Security Warning Dialogs.
Customize

and Deploy

Use Group Policy for menu and configuration settings, the SCUP Catalog to import and deploy updates through Windows Update Services, XML Configuration to customize mass deployments, and the Setup Customization Tool for installer configuration.
Enhanced features:
* Improved Select Text Tool. Not only used for selecting text, but also enables users to add most types of annotations, including highlight, strikeout, underline, squiggly, replacement, etc.
* Enhanced Print Setup. Supports printing separate pages or a range of pages by entering 1, 3, 7-10 or whatever in the Pages text box within the Print dialog box.
* Better Annotation Control. Allows users to align and center multiple annotations on PDF pages, including Notes, Drawing Markups and Typewriter Comments.
* Advanced Toolbar Control. Completely rearranges the toolbar layout and allows users to easily customize the tools that appear in Foxit Reader.
* Better Permission Control. Disables and grays out some UI elements when users are not allowed to perform the corresponding operations on the protected PDF document.
* Improved Upgrade Mode. Foxit Updater Preferences dialog box allows the user to configure the update settings. Foxit Reader supports the ability to check for updates automatically on a weekly or monthly basis.
* Improved Popup Note. A popup note turns transparent when it is open but not selected. Users can also cut, copy or paste text in the new popup note.
* Enhanced Shortcut Keys Input. Press F11 to enter or exit the full screen mode. Use keyboard shortcuts to fill PDF forms easily.
* Transferrable preferences Settings. Foxit Reader creates an INI file to save user's preferences settings so that it can be easily kept and transferred. Users can keep their own settings and don't have to configure them when Foxit Reader is updated or moved.
* Many Bug Fixes
Freeware
(Silent Install Repack) x86 Multilanguage