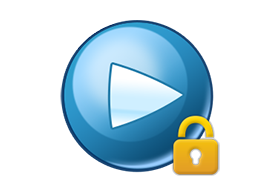 Want to make your videos/audio/pictures unviewable to anyone except who you allow? Well, you don't need to worry because the solution to password protect videos with Any Video Encryptor is pretty simple. Any Video Encryptor lets you prevent illegal copying and distribution of your media files.
With this encryption tool, you can encrypt various types of video or audio files (e.g., wmv, avi, asf, mpg, rm, rmvb, mp4, flv, any more formats) into GEM files that can only be played when a Playback Password is provided, and users can only play the encrypted media files after obtaining the Playback Password provided by you.
When a user wants to play an encrypted file, the encrypted file will pop up a dialog box to request the user to enter a Playback Password.
For the convenience of enterprise users to deploy, or secondary development, we also provide the command-line version, please contact us if you need.
Exclusive Features of Any Video Encryptor
Government-level Security
Any Video Encryptor encrypt media with Advanced Encryption Standard (AES) that is one of the most frequently used and most secure encryption algorithms available today. It is the cipher which the NSA uses for securing documents with the classification "top secret".
Protect All Media Formats
Any Video Encryptor can easily encrypt virtually any kind of Video, Audio, Image formats. You can protect MP4, AVI, MKV, WMV, MTS, RMVB, MXF, VOB,FLV, MPEG, TS, MP3, AAC, AC3, OGG, WMA, JPG, BMP, PNG… with the best free media encryption solution.
High Speed Encryption
Time is the most precious resource for many of us – who wants to waste it waiting? Now you can encrypt your movies in the original quality in mere seconds – with the innovative SuperSpeed encryption. No video conversion, No quality loss, videos in the SuperSpeed mode is just as fast as moving files between folders.

Package Multiple Documents Quickly
You can select multiple files with the same or different formats and encrypt them to one package file with one Playback. The program offers you built-in player for your videos and audios and a viewer for your pictures and documents allow you to maintain your privacy at all times.
GEM or EXE Formats
This application can export two encryption formats: GEM or EXE. GEM file package one or more video, audio, image media file, it can be played with the built-in free video player. You can send GEM file and tell them download Free Video Encryptor to view. This program creates EXE portable applications. No need to install the program at the other end to view contents.
Prevent Duplication
The program safeguards from data infringement which can lead to lost revenues & loss of intellectual credit. Advance copy protection technology restricts access to your data from unauthorized users. Unbreakable protection for all your media files including your videos, audios, pictures and documents.
Copy Protection
The program uses an advanced level of data leak prevention technology that does not permit duplication of your important files and copyright material to any USB drive or other such storage devices without your permission.
Data Leak Prevention
It prevents your data from getting leaked out to USB drives and other such storage devices. The program encrypt your media files into executable files that will only run in the drive you choose using the program.
(Installer with keygen) x86