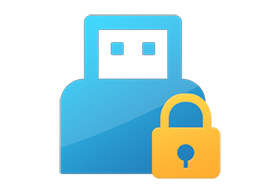 USB Encryption password-protects your USB flash drive, external hard drive, thumb drive, pen drive, memory stick, memory card, and all other portable storage devices in the Windows system.
The USB Encryption tool divides USB disk into two areas: a safe area and a public area, through create a password-locked safe area using free hard disk sectors with the industry standard AES encryption algorithm.
USB Encryption locks the bad guys out, provides data security for personal, government, and business use. The safe area could be only opened by your password, while the public area would not need any. Without installing any extra program on a computer, you can open and read the data on the USB drive just by entering the correct password.
Securely encrypt USB flash drive
If you use removable disks to move files in your office and home, you can use USB Encryption to protect your files. If your work file contains confidential company information or customer's private information, this is particularly important: if you do not encrypt this data, losing this data may bring disaster to your enterprise or career! USB Encryption can help protect the privacy of your data.
Password protect USB drive
If you use a removable drive to backup your files, you do not want it to fall into the wrong hands. With USB Encryption, you can create a safe area to password protect the senstive files on USB storage. If someone get holds of your external drive, he/she will not be able to retrieve your backup without a password.
Trustworthy security isolation
When you use USB Encrypt to encrypt a drive, it create safe area from a portion of the free space of the drive to keep the files that you want to be encrypted. If you're like the vast majority of PC users, you have no need to encrypt everything on your USB drive, then you can use public area to save file that not need encrypt.
Automatically file encryption
When an application saves data to a file, it goes through the encryption driver before it's stored into the encrypted area of the host drive. Likewise, when opening files from the encrypted area, they pass through the encryption driver that decrypts the data before passing it on to the application.
Encrypted data locked automatically when disconnect
When you disconnect the drive or power down the computer, the encrypted data becomes locked automatically. When you are done working with the encrypted files, you stop access the safe area, and that erases the track from the computer memory and locks the encrypted data, until the next time you enter your password. .
Works with USB drives of any type or format
USB Encrypt can encrypt USB thumb drives, flash memory drives, portable hard drives, internal hard drives. We suggest you format your USB disk as NTFS file system type before start encrypt with Gilisoft USB Encryption.
Runs on any Windows computer or system
USB Encryption runs from Windows XP to Windows 11, both 32- and 64-bit laptop. You can install USB Encryption on any computer running one of the supported versions of Windows :desktop, netbook, tablet, workstation, or server.
Encrypt drives of any size
USB Encryption can encrypt drives up to to 128TB (which is the current limit of Windows). After the initial encryption, the large drives work just as fast as the small ones.
Protect All Kinds of Data
Whatever information, files, folders and documents you put in your USB drive, USB stick encryption keeps them completely secured.
Reliable and Independent
It protects data by using several layers of patent pending protection methods. This makes its protection, PC and hardware independent.
No Worries of Data Loss
Total peace of mind from security leaks and privacy breaches. Never again fear of what's happening to your device while it is lost.
User Friendly Interface & Easy to Use
It's easy to install, run and use. It doesn't complicate users with technical jargon common in other encryption programs.
Thanks to Radixx11 keygen
(Installer with keygen) x86