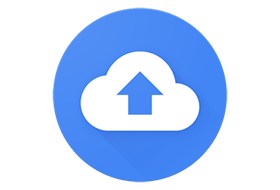 Similar to Dropbox, Google Drive (or Google Backup and Sync) facilitates a file storage and synchronization service across multiple platforms, allowing users to seamlessly access important data from any location. It also offers support for Google Photos, Docs, Sheets and Slides.
Login to your Gmail account and start syncing files to your personal cloud storage
The program becomes usable through a Gmail account. It creates a Google Drive directory on your computer and automatically shares all files and folders you save there. In order to access them from a web browser, you simply go to drive.google.com.
As far as initial setup is concerned, it is possible to choose the folder location, synchronize only selected folders, enable the tool's autolaunch at system startup, and use proxies if required.
Easily access the Drive folder and other settings using the tray icon
The program creates an icon in the system tray area, where you can open the Google Drive directory or visit it online. It is possible to pause the synchornization process if needed.
The free version offers users 15GB of free space, while the paid edition allows up to 30TB. The maximum supported file size is 10GB, and there is no limit when it comes to the traffic speed. Photos and videos can be uploaded at their original quality, in full resolution, or at a high quality to reduce the file size.
One of the best cloud backup solutions available today
Google Drive has minimal impact on system resources and good speed regarding file uploading. Unfortunately, it does not offer support for remote or FTP uploading. Nevertheless, the application provides users with user-friendly and powerful features, making it a top product among file hosting services.
(Freeware)
https://dl.google.com/drive/3.55.3625.9414/gsync.msi