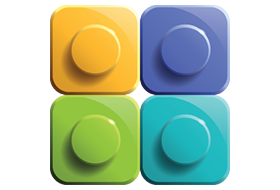 Hex Editor is a full-featured easy-to-use product for professionals who need all the power to deal with binary data. It has ultimate product functionality and flexibility to do your job quick and easy.
Hex Editor offers you all basic functionality of the award-winning Free Hex Editor as well as a number of extended features. They include multiple selection, powerful Find All and Replace All commands, Goto and Fill commands, Bookmarks and file structure analysis capabilities.
The powerful multiple selection feature allows you to select multiple areas of the edited document and apply editing commands to all of them, thus critically saving your time!
Hex Editor is highly optimized to quickly perform the requested actions and easily opens files of any size! It also allows you to continue working with a document while another document is busy performing a lengthy operation.
Hex Editor can be successfully used for:
• editing binary files of any size at highest speed
• searching and replacing your data in a binary file
• writing your microcode programs
• researching the functionality of any executable file
• streamlining your work using Undo/Redo and other features
Hex Editor can be successfully used by:
• software developers
• private users
• beta-testers
• university students
• coders
Hex Editor usage areas:
• Binary files
• Patches
• DLLs
• AVI files
• MP3 files
• JPG files
Version 7.37
Bug Fixes
Crash when unsaved documents are compared
Hex Editor Neo could crash when File Compare function was used on unsaved documents.
Hang or crash when binding structure to cursor location
Application could hang or crash after binding a structure to a cursor location and moving the cursor.
Background and text colors are mixed up in Pattern Coloring window
Now the text and background can be configured correctly.
Fixed structure definitions sync with Github repo
It was sometimes impossible to download updates to structure definitions.
Thanks to W.D release

(Hooked Silent Install Repack) x86 x64