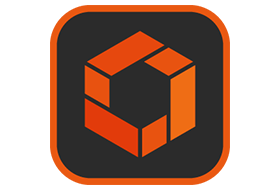 Photo Studio 12 Ultimate delivers professional photo editing & photo organizing features, spectacular special effects and professional-quality photo projects – all together in one powerful editing suite. Photo Studio Ultimate makes it easier than ever to unlock the power of your digital camera.
Crop, straighten and fix color, brightness and redeye imperfections in one click. This is photo editing software made easy! Smooth skin, remove dark circles, brighten teeth & more. Enhance, restore and repair old pictures. Plus many, many more features.
Perfect for
– Professional photo editing
– Removing unwanted objects & backgrounds
– Enhancing & restoring old pictures
– Repairing photos
– Retouching photos, removing red-eye and blemishes
– Rotating, cropping or resizing images
– Creating unique photo cards & personalised gifts
– Printing photos
– Sharing photos on popular social media/photo sharing websites
– Perfect for photography enthusiasts and beginners alike
inPixio® One-Click Image Correction
Amazing pictures in just one click – using 100% automatic smart technology! Improve the quality and the colors of your pictures in less than 1 second thanks to our fully automatic process. You no longer have to be a Photoshop expert to create perfect photos!
Remove unwanted objects like magic!
Completely remove unwanted objects from your picture. Signs, wires, people, or any image that distracts you from what you are trying to capture.
Cut-out in a few clicks!
Cut out any detail, person, object or landscape element from your photos. Select the shape of the object thanks to the cursor. The Photo Studio algorithm runs automatically! This also works as an easy but accurate background eraser.
Create impressive photomontages!
With Photo Studio you can add photo cutouts to other images to create photomontages or collages. The edge smoothing allows you to intelligently smooth contours for a softer transition between the subject and the background, for even more successful integration into your photomontage.
Filters, textures and frames
Transform your photos with filters and textures. Photo Studio offers over 100 presets, from retro to cinematic, to give your image an instant new look. All you need to do is choose the best ones for your picture. You can also fine-tune your effects and create your own filter presets. Once you've perfected you photo, you can add a finishing touch with a frame. Choose from a variety of styles and customize your frame to fit your photo.
Photo Maximizer PRO (Only in Ultimate!)
Focus on small objects
Create perfect close-up shots by zooming in and focusing on specific details in your photos, without blurriness or pixilation. Photo Maximizer does all the work for you with an ultra-powerful zoom function that can magnify images by up to 1000%. With 7 zoom presets available, it is fast and simple to make your pictures perfect.
Enlarge images & maintain clarity
Usually when you enlarge an image, you get pixilation and deterioration of color and brightness. Photo Maximizer maintains image quality without undesirable noise so you can say goodbye to pixelated, grainy and blurred photos. With inPixio Photo Maximizer you can enlarge entire images taken with any device while maintaining clarity and sharpness. Print your enlarged images as posters, photos for framing, t-shirts, postcards and more.
Reduce noise and fix grainy photos
Photo noise is an annoying side effect of shooting in low light conditions and can make your photos look grainy or fuzzy. Photo Maximizer makes it easy to deal with this problem and rescue your grainy photos. Simple to use, the Noise Reduction tool lets you precisely adjust the level of noise in your photos, reducing the grainy appearance and bringing clarity back to your evening/ night-time shots.
Edit Colors
Adjust settings including temperature, exposure, brightness, contrast, and saturation to further enhance your photos. You can also play with the tone curves to obtain light or dark hues and adjust the RGB (Red, Green, Blue) curves one by one.
Batch Processing
Define your zoom settings and Photo Maximizer will batch process up to 1000 images simultaneously!
Photo Focus PRO (Only in Ultimate!)
Enhance image sharpness
Blurred photos cannot always be avoided — especially with spontaneous snapshots. Photo Focus solves this problem in a flash and creates clear, high-resolution images. Sharpen your photos with just one click or use the built-in presets. You can also resharpen your photos to give them a more professional look.
Creative blurring for great results!
Use the Creative Blur tool to add selected iris blurring to your photos. You can use creative blur in combination with adjustments to brightness and contrast to give your photos an artistic effect and draw attention to a particular area of your image.
Tilt-Shift and Soft Focus
Add horizontal soft focus (tilt-shift) to your images. This creates fantastic miniature effects that allow the focal object of your image to look like a miniature!
Refocus
Not all photos are always correctly centered. Improve the overall focus of your images or refocus photos for great results.
Presets for Custom Effects
Make amazing modifications to photos using the blurring, sharpening or image color adjustments. Once done, save that combination as a custom preset. Photo Focus also has its very own built-in presets for highly popular photo effects.
System Requirements
– Processor: Intel Core i3 or better
– OS: Windows 10 or better (64-bit only)
– RAM: 8 GB or more
– Free Disk Space: 1.5 GB or more
(Cracked Silent Install Repack) x64