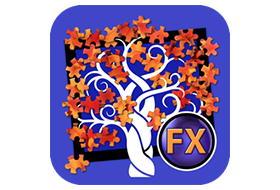 PuzziPix Pro combines photos with perfectly fitting puzzle components for great composition and storytelling. In Advertising, contexts and connotations can be in high demand for designers, so having puzzles, as a visual technique can be invaluable. PuzziPix Pro turns any photograph into an eye-catching jigsaw puzzle with creative control over the final outcome.
Four Classic puzzles, a futuristic Hexagon one, and a uniquely shaped Round one. Each puzzle piece can be moved, resized and rotated, with the ability to load additional photos into a single piece or groups of them. Also, includes the ability to cut shapes into the puzzle or around the edge—you choose!
PuzziPix Pro Includes
• Film Grain and Texture
• Tools to send Pieces Front or Back
• Tools to Move, Rotate and Resize one Piece or Groups of them
• Shape Library to add Shapes to the Puzzle Composition
• Button to Auto Snap puzzle pieces back together—or groups of them
• Option to Import Custom Shapes and transform them into Puzzle Pieces
• Option to Import a Photo into Individual Pieces
• Ability to Conform Pieces to a Shape
• Ability to Add a Background and Foreground Image
• Settings to change the background to Transparent, Textured or Solid Color
• 3D Edges
• 3D Lighting
• Exposure
Puzzle Styles
• Six Puzzle Designs – Four Classic, One Hexagon and a Round Puzzle
• Fly-off Puzzle Piece Effect—gives the illusion of an image with puzzle pieces flying off the side, top or bottom.
Every JixiPix Product Features
• Support for high-resolution images and output
• Multiple undo
• Randomize button
• Quick previewing
• Customizable settings
Photoshop Plugin
Includes a plugin which allows quick access to Hand Tint Pro from inside Photoshop, Elements, Lightroom and PaintShop Pro. Supports actions, transparency, blending, last filter command, batch processing and 16bit RGB/Grayscale modes.
Thanks to UZ1 release
(Cracked Silent Install Repack) x86 x64