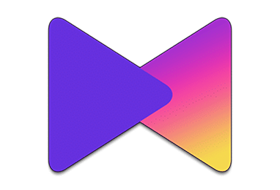 KMPlayer (Korean Media Player) is a versatile multimedia player which can cover a various different types of contained formats. Without any separate Codec, you are able to play any media files because KMPlayer has its' own internal Codec.
Supported codecs are separated by internal and external. For the sound Codec, KMP supports RTS, MPEG1, MPEG2, AAC, WMA7, WMA8, OGG, etc. In addition it supports matrix normalizer function when internal sound Codec is being used. Internal Codec gets processed inside of KMPlayer so it's faster and safer. Also supports all the Codec from ffdshow and MPEG1/2 additionally.
KMPlayer supports high resolution movie playback. That allows you to watch movies in superb quality with support for 3D, 4K, 8K, UHD and 60FPS. Moreover, KMP allows to capture audio and video or screen capture is possible. You can save it in the format you want. The codecs come bundles with the software, hence you can watch movies quickly and efficiently.
KMPlayer also provides full control over DVD selection, Movie menus, audio menus, subtitle menus, brightness, contrast and more, to suit user needs.
KMPlayer Features:
Already equipped with integrated Codec + replay environment
Supports replay of damaged (While sending online) AVI File
Supports a variety different kinds of media equipments
Supports multiple audio streams
Supports many different kinds of output devices
A variety of subtitle function Image processing function
Supports low and high specifications
Supports skin function
A variety of speech processing function
Supports Winamp (Visualization) plug-in
ASF/ASX, RTSP etc. real time broadcast viewing function(e-sky broadcasting)
Frequency analysis and wavy pattern output function when playing music
Supports live equipments like TV, Camera
Supports DVD
Strong, stopped image capture function
Video capture function
Wallpaper viewing function
Easy to use OSC (On Screen Control)
Image resizing function
A variety of input, output color face function
Executable using only one file
KMPlayer includes almost all the essential decoders required for media playback. Furthermore, to get beyond the limitation of internal decoders, the external ones such as commercial H.264 decoders or CyberLink audio decoders can be specified.
In conclusion, KMP works optimally by the users' own customization. It can set multifarious audio and video effects, slow down or increase playback speed with regular tone. Also it can select parts of a video as favorites, do an exceptionally powerful A-B repeat. Furthermore, it can remap the keys of remote interface for HTPC, including overlay screen controls, change a skin dynamically depending on a media type playing, and many more.
Homepage – http://www.kmplayer.com
Supported 27 Languages: Albanian, Arabic, Belarusian, Bosanski, Brazilian, Chinese, Czech, Dutch, English, French, German. Hebrew, Hungarian, Norwegian, Italian, Japanese, Polish, Portuguese. Romanian, Russian, Sinhalese, Spanish, Swedish, Thai, Turkish, Ukrainian, Vietnam.
Changes in 4.2.2.63:
Improved video thumbnail extraction function
Improved the link to the installation file on the homepage
Improved UI/UX to increase user convenience.
Changelog | 4.2.2.63
Changelog | 2022.2.25.13 (x64)
Download | Windows 32-Bit
Download | Windows 64-Bit
Download | 4.2.2.63 (32-Bit)
Download | 2022.2.25.13 (64-Bit)