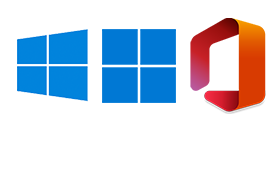 Windows and Office KMS products. It cleans all the traces of KMS host name etc, and the parameters for the server can be customized in the script if you want.

KMS-VL-ALL-7.2RC5 – Online/Offline KMS Activator for Microsoft Windows/Office/VisualStudio VL Products
Disclaimer:
This is for Education purpose only.
Please buy genuine products for ethical and legal reasons.
Or Use Linux/BSD, if possible.

How to use ?
For KMS Activation of Volume Licensed Products:
1. Run KMS-VL-ALL.cmd as Administrator.
2. Done.
Defaults:
Manual mode/No Auto-renewal Task (_Task=0); For auto-renewal task to be installed change it to _Task=1
Offline mode (_OfflineMode=1); For Online mode change it to _OfflineMode=0
Non-Debug mode (_Debug=0); For debug mode change it to _Debug=1
Custom ePIDs (_RandomLevel=0); For random ePIDs change it to _RandomLevel=1 or 2
Install Auto-Renewal Task:
– Open KMS-VL-ALL.cmd in Notepad, change _Task=0 to _Task=1, save and run.
– Keep KMS-VL-ALL folder in the same location
– Exclude the folder in Anti-Virus software
Supported Microsoft Products:
(32-bit and 64-bit)
Windows Vista/7/8/8.1/10 (v21H1) All VL Editions
Windows Server 2008/2008R2/2012/2012R2/2016/2019/2022 All Editions
Office 2010 Family on Windows XP SP3 or later
Office 2013 Family on Windows 7 or later
Office 2016 Family on Windows 7 SP1 or later
Office 2019 Family on Windows 10 (v1809) or later
Office 2021 Family on Windows 10 (v1809) or later
Visual Studio 2013 Ultimate
Visual Studio 2015 Enterprise
Visual Studio 2017 Enterprise
Visual Studio 2019 Enterprise
Retail/OEM/MAK Genuine Activations are UNAFFECTED and Converts Notice Period/OOBE-Grace period windows to VL IF they are supported and are then activated.
Supported Retail/MAK Unactivated Editions:
Win Vista(Business/Enterprise) 7/8/8.1/10 Pro Retail/MAK and their Enterprise editions
Server 2008/2008 R2/2012/2012R2/2016/2019/2022 Retail, MAK editions
Office 2010/2013/2016/2019/2021 MAK editions
Office 2016/2019/2021 C2R edition
Credits (In chronological order) :
– ZWT, nosferati87, CODYQX4, letsgoawayhell, Phazor, mikmik38, deagles, FreeStyler, ColdZero, Hotbird64 and everyone who contributed to KMS Server emulator development
– MasterDisaster for original script
– abbodi1406 for Huge Contribution and Co-Authoring
– s1ave77 for batch help
– os51 for Retail/MAK checks examples
– cynecx and qad for DLL Injection method and KMS Integration
– xinso for interesting ideas
– ratzlefatz for testing and helping with various aspects of the script
– Tito for general support, VS and SQL support idea (partially done)
– LostED For Mirrors
– csihcs for code improvements
– l33tisw00t for user support
– moo807 for constant updates to missing GVLKs
– Mouri_Naruto for the new SppExtComObj Hook and Patcher code
and MDL Community for feedback and bug reports.
Changelog:
7.2RC5 [2021-09-04]
– added Windows Server 2022 and Office 2021 GVLKs
– minor changes
Release by qewlpal
Password = 2021