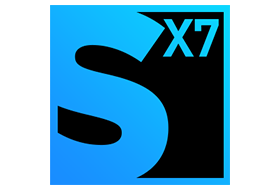 MAGIX Samplitude Pro X7 provides experienced musicians, sound engineers and producers with a complete environment for creative audio production. It combines professional tools with highly efficient work flows to achieve maximum quality in the areas of recording, arrangement band mixing, as well as post-production and mastering.
This MAGIX program includes features to support mixing and mastering. Such as the VCA fader, multiple outputs, hardware protocol support and a range of included VST effects. With the Audio Engine, you're guaranteed accurate and professional results.
A range of sophisticated functions for audio recording makes Samplitude Pro X a highly flexible solution for complex music and film projects. Take advantage of up to 999 tracks, the possibility to record in up to 384 kHz and intuitive track compiling to realize your projects in the highest quality.
This software is the perfect DAW for audio productions without compromises. From arranging and recording, to editing and mixing, all the way to professional mastering and authoring.
MAGIX Samplitude Pro X7 includes a huge range of both modern and classic software instruments. Produce music with groove boxes, synthesizers and authentic sampler instruments from a variety of countries and eras. A combination of extensive MIDI functionality and smooth workflows enables you to bring musical ideas to life on a professional level.
Recording. The absolutely sound neutral audio engine captures every detail at the highest quality.
Editing. High-quality tools, such as spectral editing, enable audio editing at the highest level.
Composition. More than 12 instruments, extensive sample library and music notation for composing.
Mixing. The integrated mixer features power animation, VCA faders and up to 999 tracks.
Visualization. The wide range of visualizations is now enhanced by the comparisonics waveform display.
Mastering. Professional mastering tools for finalizing music productions according to industry standards.
Thanks to the ongoing improvements in CPU performance, DAWs can be operated completely independent of external DSP hardware. Multi-core support in Samplitude Pro offers you the option to scale your studio setup according to its intended use and thus achieve optimum system performance.
The program also has included a 64-bit hybrid audio engine, powerful multicore support, 384 kHz sample rate. Furthermore, the VST3 and ARA support make MAGIX Samplitude Pro X a powerhouse for audio editing.
MAGIX Samplitude Pro X7 Highlights:
Recording, production, mixing and mastering in a single DAW
Improved export workflow
Use external hardware effects as plug-ins
Support for MIDI VST plug-ins
Improved user friendliness
Precise crossfade editing
Improved design
iZotope Ozone 9 Elements
Celemony Melodyne 5 essential
21 virtual instruments
MAGIX Samplitude Pro X7 Suite combines the outstanding features of MAGIX Samplitude Pro X6 audio workstation with additional exclusive editing and mastering content.
Additional advantages in MAGIX Samplitude Pro X7 Suite:
Recording, production, mixing and mastering in a single DAW
Steinberg SpectraLayers Pro 8 + version 9 upgrade
SOUND FORGE Pro 15, the full version of our editoring legend
iZotope RX 8 Elements for optimal restoration
iZotope Ozone 9 Elements for perfect masters
Convology XT Complete
47 virtual instruments
Independence Pro Premium
What's New in MAGIX Samplitude Pro X7:
New! Improved export workflow
New! Use external hardware effects as plug-ins
New! Support for MIDI VST plug-ins
New! Improved user friendliness
New! Precise crossfade editing
New! Improved design
iZotope Ozone 9 Elements
Celemony Melodyne 5 essential
+ 21 virtual instruments
System Requirements
– You need a 64-bit version for the following operating systems
– Windows 11, Windows 10
– Processor
– – Intel 6th generation Core i-series or higher
– – AMD Ryzen or higher RAM
– RAM: 16 GB
– Graphics card: INFUSION Engine 3 provides hardware acceleration for import and export using Intel, NVIDIA and AMD GPUs
– – Intel Graphics HD 620 or higher with 4 GB (Intel driver version 27.20.100.9466 or higher)
– – NVIDIA Geforce GTX 1050ti or higher with 4 GB (GeForce Game Ready driver version 496.76 or higher)
– – AMD Radeon RX470 or higher with 4 GB
– Available drive space: 2 GB for program installation (10 GB recommended)
Program languages: English, Deutsch, Français, Español
(Cracked Silent Install Repack) x64