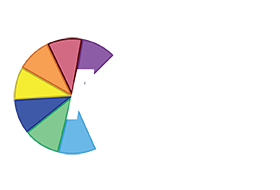 Music 1 has a unique and innovative inter-active scheduling algorithm that produces excellent, consistent music flow and reliable song rotations  M1 never violates a formatting rule nor does it leave a slot unscheduled. Each and every song receives the planned number of spins. Category rotations conform precisely to your formatting plans. Daily log editing time is drastically reduced. The learning curve is low.  In short, MusicONE makes great music radio.
Accurate Song Spins & Rotations
If your music scheduler "likes" some songs more than others, or if you find there are songs in your music library that seem to never get scheduled, here is the solution. When you plan for the songs in one category to get 35 spins a week, MusicONE will schedule every one 35 times. If another category is formatted for 70 plays a month, each song in the group gets 70 plays.
Prevents Song "Clustering"
Clustering: That is when some songs consistently over-schedule near the same time of day even as the music director's formatting plan is for them all to schedule equally in all day parts. Clustering is a bad thing and MusicONE will help you design the desired rotation patterns for each category you create. Then it will deliver equal and balanced play for every song with absolute reliability.
Radio's Quickest Editor And The Most Reliable Schedules
When using other music scheduling software, it is common to spend an hour a day editing each music log. Most Music 1 users get it done in less than ten minutes and the average is just five minutes at the task. That's 5 minutes to a perfect music schedule without formatting errors or rule violations and without unscheduled slots. Music 1 delivers perfect spin counts and music radio's most reliable song rotations.
Music 1 Is the Ideal Scheduling Solution for Stations Large and Small, Broadcast and Internet
Music 1 was designed by one of American radio's most experienced and accomplished music programming veterans. It is a functionally robust scheduling tool with innovative technology that easily handles all of the complex needs of modern radio programming operations. Yet, its basic functions are simple and intuitive. Music radio veterans who switch from other software are amazed at M1's scheduling reliability and efficiency. Radio novices launching LPFM, DAB and internet stations learn and master MusicONE quickly. The current release is the 7th generation of the software. It now has a twenty-five year track record of excellent service at radio stations large and small world-wide.
Respect goes to kallegaul (TSRh)
(Cracked Silent Install Repack) x86