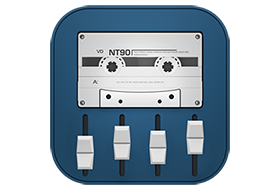 For a long time, music recording has been difficult for those without access to professional recording studios. The inability to afford expensive recording hardware has confined many musicians to the world of second-rate equipment, discouraging their ambitions to realize their true musical potential. Once, this was typical, but today, things are changing! Forget private recording studios, expensive equipment and high invoices: with n-Track Studio, having a professional music home recording studio and a comprehensive audio environment has never been easier and more affordable!

n-Track Studio has been designed to bring you a powerful Digital Audio Multitrack Recorder. All you need is a full duplex soundcard, a microphone, some free space on your hard drive, and a bit of imagination: there are no limitations on what you can realize with this program!
Let's have a look at some of n-Track Studio's special features:
Easy and intuitive approach
To start a new song, just record the first track (usually the rhythm track). To record an audio track click the "Record" button. Once you've finished recording the track, click the "Stop" button. Can it be any simpler?
Powerful multitrack editing features
Add and record as many tracks as you wish. Edit tracks by time-stretching, looping, trimming, moving, reversing and crossfading audio and MIDI parts. Create arrangments in minutes, and have total control on your song's parts and overall structure.
Versatile routing and mixing
Group tracks, create Aux channels for send effects, route tracks to each other, or resample MIDI internally thanks to internal recording routing. Automating mixes allows for complex, evolving arrangements.
MIDI editing and control
Write or record MIDI using the built-in editors and controllers. Write and edit MIDI notes and velocity with the Piano Roll, play on-screen Drums and Keyboard controllers, or connect external MIDI controllers.
Awesome included effects
Live input processing allows you to use n-Track Studio as a multi-effect device for your instruments. You can connect an electric guitar to your computer, for example, then use n-Track Studio's effects as virtual guitar pedals. Effects include Reverbs, Echos and Delays, Compressors and EQ, Phaser and Flanger, Guitar Amp and Cabinet simulators, the VocalTune autotuning plugin, and more.
Lots of included sounds
Navigate built-in or third party virtual instruments with ease with n-Track's instrument browser. It makes adding virtual instruments a breeze, with no interruption to creativity. Get lots of free and premium sounds installed with a click with the Add-on Manager.
Multiple Soundcards
n-Track supports multiple input and output soundcards, or more than one soundcard. This makes it possible to record more than one track at a time and to send the program's output to more than one stereo output. Each output channel has its own master effects section and master volume control.
Beat creation and sequencing
You can easily create drum and musical loops using the widgets on audio and MIDI files, or using step sequencing. Play in your beat with external controllers, use the n-Track Drums drum machine plugin, or use the on-screen Drums controller.
Syncing
n-Track Studio can sync to other programs or external devices using SMPTE/MTC or MIDI Clock sync, acting either as master or slave. AVI, MPEG and Quicktime videos can be played in sync with the song in a dedicated video playback window.
Automation
In n-Track Studio, you can automate the envelopes for the volume, pan, send and return settings. This allows you to program fade-ins and fade-outs, crossfade between tracks, boost the volume of a track when there is a solo, and so on.
Cloud storage and collaboration
n-Track Studio brings cloud storage and music collaboration inside your DAW environment. The new integrated Songtree app lets you make music with others online: get another musician into your project, or contribute to a song started by others. You can also freely store unlimited mixdowns on Songtree.
Visual control on your sound
Extra features include advanced EQing and Spectrum visualization, 2d and 3d sonograms, stereo field analysers and built-in instrument tuner. Control your sound's frequency content by clearly seeing what's going on.
Thanks to UZ1 release
(Installer with crack)  x86 x64