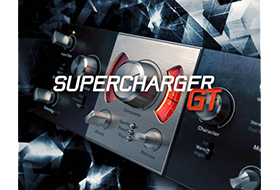 The harmonic-rich sound of pure tube compression
START YOUR ENGINES
Dripping with the high-octane attitude of a one-of-a-kind tube compressor – with an intelligent interface designed for supreme ease of use.
HIGH-OCTANE POWER
SUPERCHARGER adds unique, colorful character to anything it touches. Inspired by a one-of-a-kind boutique tube compressor, its one-knob simplicity lets you sculpt your dynamics at full speed with total focus on the sound. Designed for versatility, SUPERCHARGER is the perfect all-round tool for anything from warming up a vocal to crushing your drums completely.
PERFORMANCE MACHINE
SUPERCHARGER packs plenty of horsepower behind its sleek design. Heat up acoustic guitars and vocals with a hint of SUPERCHARGER's magic or push your drums to the limit. Create ducking effects that pump with high-energy tube flavor. Add the bite, depth, and character of a souped-up tube compressor to your productions.
INTELLIGENT CONTROL
SUPERCHARGER takes the legwork out of perfectly-tuned compression. The Compress knob is the key. Set the input gain once, then start adding thick, harmonic saturation and roaring presence – without having to adjust makeup gain. SUPERCHARGER's one-knob design controls it all with a sweet spot at every point on the dial.
For additional control, the Punch button adds more detail to your transients. And the Dirt button pours on an extra layer of saturation for tracks that burn with overdrive urgency.
Thanks to Team R2R
(Installer with keygen) x64