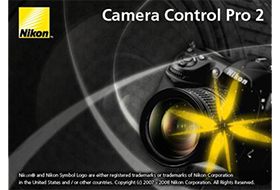 Camera Control Pro software enables simplified remote control of many Nikon digital SLR functions from a personal computer, and includes advanced features such as "Viewer" that provide substantial improvements in operation.
Main Features : Camera Control Pro enables you to control almost all functions of Nikon digital SLR cameras—such as exposure mode, shutter speeds and aperture—via the included USB or Firewire cable and/or optional WiFi adapters. Captured images can be viewed within the software. The Viewer window contains the following buttons: "Previous image", "Next image", "Show focus area", "Fit to screen", "100%", "50%", and "Delete". Camera Control Pro enables you to customize Tone Compensation Curve data that will be saved in Nikon digital SLRs, such as the D2Xs, to improve operating efficiency when using multiple cameras at the same time.
A simulated (camera) LCD panel on the computer screen performs the same function as the camera's viewfinder display, and has been modified to be consistent with those used in the latest cameras for smoother operation. It is also possible to control the camera from your personal computer without displaying the control menu on the computer. Compatible with Nikon's Image Authentication Software. Image data can be transferred and stored without affecting the authentication function. In addition to supporting USB cable connections, Camera Control Pro offers compatibility with the optional Wireless Transmitter models WT-2 and WT-3*. When attached to a digital SLR, the WT-2 and WT-3* enable remote shooting and setting via a wireless LAN over WiFi.
(Installer with Serial) x64