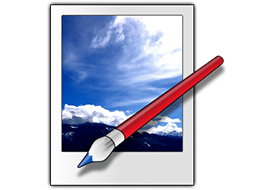 paint.NET is free image editing and photo manipulation software for Windows. It features an intuitive and innovative user interface. Supports layers, unlimited undo, special effects, and a wide variety of useful and powerful tools.
paint.NET started development as an undergraduate college senior design project mentored by Microsoft. Originally intended as a free replacement for the MS Paint software, it has grown into a powerful yet simple tool for photo and image editing.
An active and growing online community provides friendly help, tutorials, and plugins.
Compare Paint.NET to other digital photo editing software packages. Such as Photoshop, Corel Paint Shop Pro, Microsoft Photo Editor, and The GIMP.
You can use the Paint.NET to enhance and clean up your photographs. Using the Clone Stamp tool, you can carefully remove the power lines that criss-crossed in front of the Space Needle. Every feature and user interface element are immediately intuitive and quickly learnable without assistance.
Powerful Tools
Paint.NET includes simple tools for drawing shapes, including an easy-to-use curve tool for drawing splines or Bezier curves. The Gradient tool, has been cited as a huge improvement over similar tools provided by other software. The facilities for creating and working with selections is powerful, yet still simple enough to be picked up quickly. Other powerful tools include the Magic Wand for selecting regions of similar color,. And the Clone Stamp for copying or erasing portions of an image. There is also a simple text editor, a tool for zooming, and a Recolor tool.
Unlimited History
Everybody makes mistakes, and everybody changes their mind. To accommodate this, every action you perform on an image is recorded in the History window and may be undone. Once you've undone an action, you can also redo it.
Special Effects
paint.NET has effects such as blurring, sharpening, red-eye removal, distortion, noise, and embossing. Also included is unique 3D Rotate, Zoom effect that makes it very easy to add perspective and tilting. The app also has included Adjustments. They help you tweak an image's brightness, contrast, hue, saturation, curves, and levels. You can also convert an image to black and white, or sepia-toned.
Changes in paint.net 5.0.7 (2023-06-24):
New: Ctrl+Shift+Page Up/Down can now be used to switch between tabs
Improved: The selection highlight is now hidden when the Layer Properties dialog is open
Improved: The Move Selection Tool will not be forced to commit its state when the image is being saved, thus preserving history entries
Changed the icon for Contiguous mode (Magic Wand and Paint Bucket tools) to have better contrast with the icon for Global mode
Fixed: Shortcut keys are now listed for the tooltips in the Layers and History windows and for the selection combine modes in the toolbar. The help text for the Magic Wand and Paint Bucket tools also notes that holding Shift will use Global mode.
Fixed the Edit -> Copy and Copy Merged menu items from being incorrectly enabled when no image is open
Fixed an issue where the selection highlight would not appear in some cases
Fixed some rare rendering artifacts for GPU plugins when using the CPU for rendering
Fixed an infinite loop when using BoltBait's Apply Mask twice, on two separate images with a different number of layers
Removed the /setenv command-line parameter
Updated the bundled DDSFileTypePlus plugin to v1.11.9.0 (thanks @null54!)
(Freeware) x64