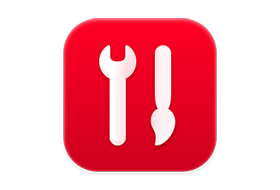 Parallels Toolbox is our all-in-one solution with over 40 tools for Windows. Designed for creative individuals, students, small business owners, chronic multitaskers, IT managers, and everyone in between. Parallels Toolbox allows everyone to make the most out of their Mac without learning complicated system settings.
With just one click, you can
– Save Space on your Hard Drive
– Create High-Quality Content
– Quickly Optimize your Computer for a Presentation
– And more to come!
Archive
Compress files with one click to use less storage space. Unarchive any archived files, RAR, zip, and more.
Barcode Generator
Enter text or a URL, choose the desired barcode format, and the tool will generate a barcode or QR Code image. Copy the barcode to a clipboard or save it as an image file.
Barcode Reader
Scan a barcode with a built-in camera or import an image to recognize content encoded with a barcode or QR Code. Links are automatically recognized and can be clicked directly.
Block Camera
Block the built-in camera, making it inaccessible to applications.
Break Time
Work more productively and use Break Time as a reminder to take regular breaks from your computer.
Capture Area
Take a screenshot of part of the screen.
Capture Screen
Take a screenshot of the entire screen.
Capture Window
Take a screenshot of a single window.
Clean Drive
Keep your Mac clutter-free and running at max speed. Scans, detects, and lets you choose what to delete
Close Apps
Reveal the desktop or start work from scratch. Depending on which option you select, this tool will minimize all opened windows or exit all applications that are visible in the taskbar with one click.
Convert Video
Optimize your home movie or television shows for iPad® or iPhone®.
Do Not Disturb
Avoid distractions so you can focus on the task at hand. When activated, all notifications and the Dock app animations are disabled.
Do Not Sleep
Prevent your computer from going to sleep and your display from dimming. Ensure a task or presentation won't be interrupted by disabling settings that would allow the computer to go to sleep.
Download Audio
Download audio files from the Internet to your computer. Works with up to 30 tracks and detects multiple tracks automatically.
Download Video
Download your favorite videos from the Internet: Facebook, YouTube, Vimeo, and many more.
Eject Volumes
Eject all volumes mounted on your desktop, including local removable volumes like external hard drives and memory cards, network volumes, and mounted disk images.
Encrypt Files
Encrypt your files or folders to securely share them or store them on your computer.
Energy Saver
Use Energy Saver to extend your battery life. This tool automatically detects when your computer is not plugged into a power source and several energy-saving settings that are usually hidden deep inside the operating system. Use settings to customize to your own preferences and easily one-click to extend your charge!
Find Duplicates
Search any drive or folder to quickly find identical files (even with different names) and free up disc space
Hide Desktop
Hide all the files, folders, and other icons on your desktop when you're doing a presentation, sharing or recording your screen, or taking screenshots.
Launch
Open any collection of applications, documents, or other files simultaneously with just one click.
Lock Screen
Immediately lock your screen to prevent unauthorized access to your computer—no need to wait until the password-protected screen saver kicks in.
Measure Color
Measure colors in any currently running application and receive the results in a configurable format — HEX, RGB, HSL, or CMYK. Copy the results to your clipboard or see the results right under a mouse pointer.
Mute Microphone
Prevent unauthorized or unwanted listening by other applications.
Presentation Mode
Disable distractions for a better presentation experience. The Presentation Mode tool can automatically detect external displays and turn itself on.
Recognize Text
Extract text from an image file. Just drop an image on the tool, it will scan the image for any text by running an optical character recognition (OCR) process and present editable text as a result.
Record Area
Record video from a selected area on your screen.
Record Audio
Use your computer's built-in microphone and record audio with a single click. You can record from an external microphone if it's selected as the input source in System Preferences › Sound.
Record Screen
Record video of the entire screen.
Record Window
Record video from a single window.
Resize Images
Resize one—or multiple—images, and convert images between various formats.
Sleep Timer
Count down from a specified time to send the computer to sleep, or shut it down.
Switch Resolution
Quickly switch screen resolution. This tool is especially useful to those who find the macOS® resolution settings a bit too limited.
Take Photo
Take an instant photo using the computer's camera.
Take Video
Take an instant video using the computer's camera.
Transform Text
Use this tool to transform text between different letter case types – Title Case, lowercase, CamelCase or even RAnDoM cASe. Simply type or paste text into a source text field, select a letter case type, and the tool will convert the text automatically.
Unarchive
Unpacks various file archive formats.
Unit Converter
Convert units and currencies by simply inputting what you want to convert. No need to choose a category—enter a number, and then type one or more letters to instantly see the conversion results. For example, just type "73 F" to get the temperature in Celsius.
Verify Checksum
Generate and compare checksums of files.
Window on Top
Select a window from any app and have it "float" on top so you can see and interact with it while working in other apps.
Thanks to BTCR release
(Cracked Silent Install Repack) x86 x64